Having a coherent voice in products remains a difficulty for many writers and for writers working together. Sounding united can seem nearly impossible. But thanks to two content creators' new novel, there is hope.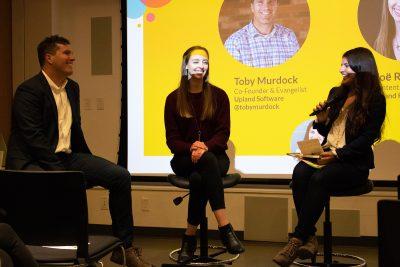 Book fanatics and content marketers gathered at More Than Words Warehouse on Wednesday evening to celebrate the Feb. 10 launch of the book "Mastering One Voice: A Marketing Fable and Field Guide to Content Operations."
The event, hosted by Boston Content, a non-profit community group for content creators, and Boston CMGR, a platform for community managers, gave readers the unique opportunity to hear from co-authors Toby Murdock and Zoe Randolph. The event also included time for networking, interviews with the writers and book signing.
Sarah Dudley, the moderator and the executive director of Boston Content, said this event provided a great opportunity for the audience to meet with content marketers across the city and learn about the field in a very engaging way.
"[The authors] presented [content marketing] in such a fun way," Dudley said in an interview. "When they wrote the book … they didn't just talk about why content and content operations are important, but they showed us why content marketing is so important and how to create it in a way that really impacts people."
What distinguishes the book from other practical guides, the authors said, is that the first half of the book is a fictional story that reflects the abundant experiences and challenges when working with various types of companies in an engaging manner.
"Human beings are story-consuming creatures, and we really learn things through stories," Murdock said in an interview. "I spent all this time with all these marketing departments learning about how content went and seeing the characters and the issues. So I really just aggregated all of that and created some characters and plots … and [Randolph] took it from there."
Although content marketing is consumer-driven, Murdock said when it comes to large organizations, lack of collaboration can often fragment teams, preventing them from sending a consistent message to consumers. He said this book is meant to combat that.
"A far higher objective is that [for] every touchpoint along the customer journey to have not just a fantastic experience, but one that's consistent with the other touchpoints," Murdock said at the event. "There needs to be in large organizations some functions that's keeping all this coordinated and that's what sort of gave birth to this notion of content operations."
Murdock also said technology has accelerated the content-producing processes and generated an explosive amount of content in various digital media. He added, however, that the quality of content production matters more than quantity.
"We didn't realize how through that process again we're creating a lot of siloed teams and a lot of fragmented customer experience," Murdock said in an interview. "I hope the future around content is creating less and thinking about how we can ensure that while we're creating less, we're creating content that's consistent across all the touchpoints in the customer journey." 
The authors said external efforts could be optimal once different teams within a company are on the same page and talk about authentic, compelling stories.
"We have these goals and pressures and obligations of what we need to do externally," Murdock said at the event. "But what we really need to do is take a deep breath, and think about what we're doing and [ask] how are we going to organize internally … so that when we do those external efforts of creating that video or writing that blog post, we're all speaking together." 
The writers said they recommend this book for content teams to help discover the disconnections between their teammates and form a cohesive voice.
"One of the things that is really useful when people are talking about this kind of model is getting a bunch of different perspectives," Randolph said at the event, "because the way that a [chief marketing officer] is thinking about this is so different than the way a creator is thinking about it." 
Murdock said making less but higher-quality content can reduce the risks of confusing consumers and making detrimental impacts on the organization. 
"Hopefully, [readers will] be inspired and informed to implement a content operation at their company," Murdock said in an interview. "Instead of creating so much content, let's create less content and make sure its content that's all consistently telling the same story."