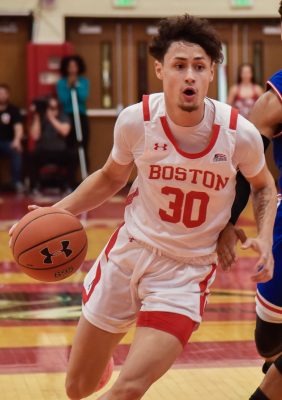 It's been a hectic week full of accolades for Boston University junior Javante McCoy.
First, McCoy scored his 1,000th career point last Wednesday in a game against Lehigh University, making him the 39th player in BU history to hit that milestone. On Monday, McCoy was named to the All-Patriot League third team for the first time in his career.
While these superlatives are an indication of the high level of basketball McCoy has delivered over his career, the Milwaukee, Wisconsin native said that his focus remains elsewhere. 
"It's always great to see your hard work pay off," McCoy said. "But I can't let it distract me too much because I've got to stay focused on what matters." 
McCoy has been a mainstay in the starting lineup for the Terriers since his arrival on campus in 2017, starting 85 of the 93 games he has played in over his three seasons at Boston University. In that time, McCoy has career averages of 11 points, 2.4 assists and 2.8 rebounds per game.
While McCoy has been a vital member of BU since day one, the transition from his high school days in Texas was difficult for him. 
"You've got to think more selflessly, you've got to think about what's best for the team," McCoy said. "It's not just scoring. A lot of times in high school, you could get away with just being aggressive on offense and trying to outscore opponents. But in college ball everybody is bigger, everybody is stronger, everybody is more talented on the court." 
This season though, McCoy has elevated his game to a new level, according to BU head coach Joe Jones. While his average of 12 points per game this season doesn't jump off the page compared to his past numbers, Jones said McCoy's improvement in being more aggressive on the offensive end has been key for the Terriers this season. 
"He's been much more aggressive as an offensive player, keeping himself aggressive throughout the game," Jones said. "The way we play, we kind of play a system and a style that we're kind of a passing [and] moving team. I think at times, he would get lost in that, trying to make sure we were playing the right way and making sure the ball is moving and not always sure of how to stay aggressive." 
Jones credits McCoy for finding the flaws in his game from the start.
"We had a conversation and he was the one that said 'I really feel like I just need to be more aggressive with how I play,'" Jones said. "I really felt like it was something that would give us a boost, I really trusted him that he would go out and play the right way and he's been great." 
In conference play this year, McCoy has really shown his improvements. Since the start of Patriot League play this season, McCoy is averaging 14.2 points per game and has improved his field goal percentage to 46 percent. 
McCoy pegged his relationship with his coach as a major reason for his improvement over the past three seasons. 
"He's been very supportive, he's been alongside every step of the way telling me to stay aggressive, stay locked in," McCoy said. "Just reminds me what I'm capable of every day, and what I can bring to the table as a leader … I love Coach Jones and I wouldn't trade him for any coach in the world." 
Jones had nothing but praise for McCoy, describing him as both skilled and smart on the court. 
"He's talented and he's got a will to win. And I think that the combination of that is really good," Jones said. "He understands the game. He has a good feel for the game. He's an intelligent basketball player."
While McCoy still has one season left at BU and wants to remain focused on the team now, he does have goals for after his time at BU.
"My goal is to let basketball take me as far as I can [go]," McCoy said. "Where I want to play, I'm not sure, I just want to let it take me as far as I can." 
Jones believes that McCoy's goal of playing professional basketball is more than an achievable one as well, saying he might as far as the NBA. 
"I think he's someone that is going to be on the radar for NBA teams," Jones said. "I'm not quite sure he's going to become an NBA player, but I think he's capable of putting himself in a position where he's going to be recognized as someone that they're going to take a look at."
McCoy will look to continue his strong play into the start of Patriot League tournament play Thursday, as the Terriers play host to the U.S. Naval Academy (14-15, 8-10 Patriot League) in the first round of the tournament. 
The Terriers have had a successful season posting a 12-6 conference record, their best conference record since the 2016-17 season, while also earning the school's first win over an SEC opponent when the Terriers took down the University of South Carolina. 
But despite their strong regular season, McCoy is adamant that the Terriers' season is far from over. 
"I'm trying to win this Patriot League tournament," McCoy said. "I think there's no limits on where we can go. I think it's up to us, and right now that's where my mind's at."