Many people think of art as being limited to the walls of museums. But a group of student artists is looking to remind the public that art can be found anywhere — even local pizzerias.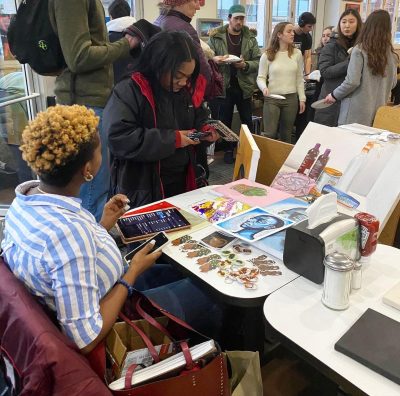 The JUSTbeU Art Collective, a group of aspiring student artists dedicated to creating complex art shows in easily accessible places, hosted a vibrant pop-up art show at T. Anthony's pizzeria on Sunday. A lively crowd of both students and Boston locals alike viewed tables of art exhibits as they conversed over pizza and music. 
Sam Weinberger, a junior in the College of Fine Arts, is a mural artist and graphic designer who founded the group in late 2019. 
Weinberger said his vision is to make art more accessible to the community and remove social barriers — like traditional museums and formal galleries — that isolate potential admirers of art.
"We are a collective that comes together and creates pop up shows in unconventional spaces like the one you see here today," Weinberger said. "It's really about accessibility."
Weinberger said the idea of hosting these public pop-up art shows emerged from his experiences as a pianist in benefit concerts. Soon after, Weinberger began exploring street and mural art, creating his pieces in public spaces he said. 
"Getting the public eye on your work is really where the influence came from," Weinberger said. 
Alli Raina, a sophomore artist and musician at the Berklee College of Music, said the fact that the art show was held at T. Anthony's made it more approachable, especially among the primarily college student attendance.
"I think it's really special and really interesting that it's in a pizza place, I think it's more welcoming," Raina said. "People our age especially probably feel more comfortable coming here than they would to a stark art gallery." 
Weinberger said he hopes attendees recognize the passion and effort of student artists. 
"[I hope] they see the potential of the collective, they buy some merch hopefully, they enjoy the show, they get free pizza and they see the amount of work that all these artists are putting into their lives and work to make a successful career out of being an artist," Weinberger said, "which is not an easy task to do."
Matthew Guattery, a junior in CFA, said The JUSTbeU Art Collective's pop-up art shows have become routine for the group. Not only have their events worked to generate more interest in art among college students, but have even inspired members within the collective to discover and experiment with more art styles and mediums. 
Inspired by another member of the art collective, Raina said she has started incorporating her art onto T-shirts and has branched out to various art styles, including pointillism, acrylics and watercolors. 
"I really like abstract work, so a lot of [my art] is abstract," Raina said. "I'm also a musician and a lyricist, so some of them have words on them."
Guattery said this show has allowed him to learn more about various kinds of art. 
"I think it's really interesting just how many different artists are here … it's definitely opened my eyes to different artists," Guattery said. "T. Anthony's was really helpful when Sam was first looking for a place to go to and they were really open to having an event like this." 
Weinberger said these pop-up art shows have been popular among college students because of how they lack the social barriers that some may find "pretentious" at formal art institutions. 
"I really feel like they should be able to experience art and experience art in such a dynamic atmosphere and environment and a place where it's really supporting," Weinberger said. "It's a place where people can come and smile and have a great time and not have to worry about who they are."
Levi Golden, a senior in the College of Arts and Sciences, attended the event to support Weinberger and the other artists, and said he was impressed by the atmosphere the space provided.
"I'm not really a big art show guy," Golden said. "It feels more casual being at a place just out in the open like this."
Weinberger said he worked hard to achieve his goal of creating a group for artists who want to present their art to the Boston community in a down-to-earth approach. 
"It's all about action, it's about doing it," Weinberger said. "It's about not thinking, not conceptualizing your ideas … The way to make it happen is to do it."