In 1989, Yusef Salaam was one of five teenage boys wrongly accused and convicted of sexually assaulting a Central Park jogger. Salaam, Korey Wise, Raymond Santana, Antron McCray and Kevin Richardson were dubbed the "Central Park Five," and served a varying five to 12 years in prison. After two decades, in 2002, when serial rapist Matias Reyes confessed to the crime, their convictions were overturned.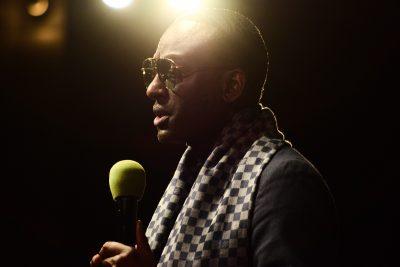 Salaam, now a public speaker and member of the newly-titled "Exonerated Five," has taken up the fight against the criminal justice system that he said unfairly treats "the Black and brown community."
On Friday, Salaam shared his lecture, "Born on Purpose and With a Purpose," with nearly 500 BU students and faculty at the Tsai Performance Center, where he focused on the importance of education and the effects of incarceration and disenfranchisement on young men of color. 
While incarcerated, Salaam said he experienced a spiritual turning point. By discovering and rethinking his identity and personal philosophy, Salaam said he was able to develop the mindset to change his circumstances and free himself. 
"30 years ago, I was ran over by a spike wheel of justice, and I got a big smile on my face," Salaam said during the talk. "What happened to me was the most beautiful thing that could happen to anyone, because when you rearrange and readjust your focus, you realize that you have to thank the Lord for the lessons, and thank you, Lord, for the blessings."
The event was hosted by the Islamic Society of BU, who invited Salaam to celebrate Black History Month. Azanta Thakur, president of ISBU, said the organization wanted to focus on a current Black Muslim voice. 
Thakur said she hoped the audience would take away dual lessons of empathy and activism from the lecture.
"Stories like [Salaam's] are so common, unfortunately, and he is one of thousands and thousands of people that this is happening to," Thakur said in an interview. "We need to walk away with empathy and compassion and make sure that things like this [aren't] happening."
At the beginning of the lecture, Salaam said he lived his first several days after birth without a name, a popular practice in the community he grew up in. Now, Salaam manages to make his name and his purpose known, saying that he found meaning in his life despite the injustice that had befallen him.
"Allah blessed me to go through what I had to grow through, in order to tell especially young men [that] prison is not a rite of passage, you don't have to go there to become a man," Salaam said during the lecture. "I went to jail and got a college degree … but it was a bit of a struggle, because I had to believe in myself first of all."
A recipient of the Lifetime Achievement Award by former President Barack Obama in 2016 and an honorary Doctorate of Humanities from Anointed by God Ministries Alliance & Seminary in 2014, Salaam criticized the prison industrial complex, which he said is biased against people of color. To prove his point, Salaam spoke about the Central Park Five case and how many continue to suffer the same fate he had endured.
Repeatedly, Salaam spoke about how Black and brown men, even today, have to consider their odds of childhood imprisonment. Just because minorities have a "complexion for rejection," Salaam said that does not mean that they could not make their lives meaningful.
"Give them all opportunities to experience life, liberty and the pursuit of happiness," Salaam said, in reference to the prison system. "I was in the prison, but one day I was free."
Emma Chrisman, a senior in the College of Fine Arts, said she found great value in Salaam sharing his personal experience at BU.
"I'm glad he took the opportunity to try and build on things we didn't know and understand the way that he sees the world," Chrisman said after the event. "He could really spin these narratives out of these little stories and make [them] into something bigger."
Having been sentenced for a crime he did not commit, Salaam spoke about his upward journey out of prison and into advocacy and academia. In reference to his incarceration and frustration with the U.S. prison system, Salaam shared verses from the same rap song he delivered in court some 20 years ago.
"Sitting here at your table doesn't make me different," Salaam said, repeating the words he had spoken to the judge. "Just like being here in America doesn't make me an American."
Salima Taylor, a master's student at Tufts University, said she attended the lecture to appreciate Black Muslims. Listening to all that Salaam had accomplished, despite the trials and tribulations he had to face, Taylor said reinvigorated her mission to serve.
"I think that we need authentic, strong, genuine figures to really present us with the facts and information, but also with the emotion and the feeling of what occurs in the struggle," Taylor said. "I need to be [acting], because I do have a voice and I do have perspective, and I want people to see that energy and engage with it, and I want to create change."