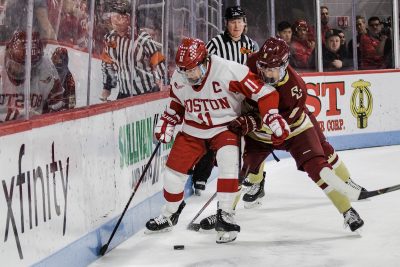 The 2019-20 Hockey East regular season is approaching its conclusion. After five grueling months jam-packed with close finishes and constant drama, each team's postseason fate will be decided by the end of Saturday night.
 The stakes are as high as ever entering the final weekend of the regular season. Eight of the conference's 11 teams are still jostling for playoff position with two or fewer games remaining on their respective schedules. With so much left on the line, this weekend will be sprint to the finish.
 To BU head coach Albie O'Connell, playoff hockey has begun already.
 "We're in the playoffs now, really," O'Connell said. "We're fighting for a playoff spot, fighting for home ice."
 The Terriers (12-12-8, 9-8-5 Hockey East) currently sit in a tie for sixth, still capable of finishing anywhere between third and ninth depending on this weekend's results. Advancing to third or fourth would see BU's postseason run begin at Agganis Arena, while finishing between fifth and eighth would have BU hit the road in the first round. Dropping to ninth would mean missing the playoffs altogether.
 In O'Connell eyes, there's no way to predict how this final weekend will play out.
 "If you look around the league, it's been pretty back and forth, [with] teams fighting and clawing for points," O'Connell said. "It's coming down to the last weekend."
 The only opponent left on BU's schedule is Northeastern University, which the Terriers will see twice this weekend in a home-and-home series between Friday night at Matthews Arena and Saturday afternoon at Agganis Arena. Like the Terriers, the Huskies (17-12-3, 10-11-1) are experiencing their fair share of postseason uncertainty, currently clinging to the last spot in the playoff picture.
 The Huskies have dropped a season-high of four consecutive games, most recently suffering a two-game sweep at the hands of a University of Vermont squad that had not won a game in conference play all season. The slide has put Northeastern only a single point ahead of the University of New Hampshire in the battle for the final playoff berth.
 With Northeastern aiming to fend off UNH by gaining critical points in this weekend's series against the Terriers, BU senior forward and captain Patrick Curry knows this weekend's doubleheader won't be easy.
 "It's going to be a playoff series," Curry said. "It's playoff hockey, so you're seeing every team's best. Therefore, you've got to bring your best."
 The Terriers are also entering on their worst skid of the season, falling 4-1 to Boston College last Saturday night to bring their losing streak to three games. The Eagles are the only playoff-bound team whose finishing point is confirmed, perched atop the conference on 32 points with the regular season title already in hand.
 O'Connell hasn't been discouraged by his team's recent downturn in results, but he does think finishing strong will require his Terriers to put previous struggles behind them.
 "We've just got to make sure we stay positive," O'Connell said after the loss to BC. "There's no reason for negativity at this time of year. We like our team, we've liked it all year."
 With four points up for the taking, there are numerous potential landing spots for BU. Two wins would put the Terriers on 27 points, equaling the current third-place University of Massachusetts at Lowell, who only has one game left to play. The University of Connecticut and University of Maine are at 26 and 25 points respectively, and both will also play just one game this weekend.
 Should the Terriers trend the opposite direction in the final series of the season, they could be at risk of being overtaken by Providence College, which is tied with BU but has only one game to play. This weekend's opponent could also jump the Terriers in the standings, as the Huskies are two points behind BU. UNH cannot be overlooked either, as a two-win weekend could see the Wildcats surpass BU if the Terriers go 0-2 against Northeastern.
 With so much potential for movement, O'Connell says BU just needs to focus on getting as many points as possible and letting the rest of the league play out as it will.
 "We want to put ourselves in the best spot and that's the focus," O'Connell said. "Hopefully we can be as healthy as we can going into next weekend and play our best hockey."
 The Terriers will look to make a final push this weekend when they face off with the Huskies at Northeastern's Matthews Arena on Friday at 7 p.m. before returning home to Agganis Arena for the regular season finale at 4 p.m. on Saturday.