At first it might sound like an improbable feat: bringing together almost every one of music and entertainment's biggest names for one single event that doesn't include awards, prestige or drama. But then again, these are improbable times.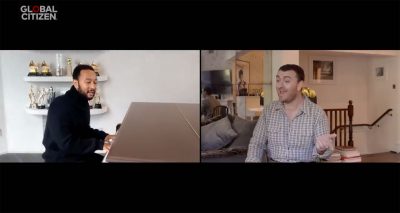 Global Citizen's virtual benefit concert, "One World: Together at Home," which aired Saturday evening on broadcast television, pulled it off by streaming platforms and social media alike. Celebrities brought together by Lady Gaga and hosted by Jimmy Fallon, Jimmy Kimmel and Stephen Colbert, the live event combined strong performances with messages of hope for an altogether pleasant, even if redundant, distraction from self-isolation.
Performers featured ranged from Paul McCartney to Billie Eilish, all streaming from their homes, but the real stars of the night were the everyday heroes fighting COVID-19. In between musical numbers, tribute was paid to healthcare workers, local charities and other front-line workers of the ongoing pandemic, which to date has claimed over 175,000 lives and placed billions of people under lockdown.
Unlike other charitable events, no fundraising occurred during the concert itself. By the time it began, $50 million had already been raised to go toward life saving and relief efforts. By Sunday morning, almost $128 million had been pledged.
In addition to the well-deserved praise, there were plenty of sobering moments. Beyonce and Alicia Keys, neither of whom performed, pointed to the disproportionate ways the virus is affecting marginalized people and people of color. Amy Poehler offered words highlighting the vulnerability of the homeless.
Nevertheless, the unquestioned theme of the night was not grief, but hope and perseverance. The musical numbers themselves, which were technically excellent, were all too predictable to be truly engaging. Kacey Musgraves gave a gentle performance of her ballad about optimism, "Rainbow," accompanied by pictures of crayon and chalk drawings of rainbows from around the world. Gaga opened the evening with an alternating melancholy and jazzy rendition of Charlie Chaplin's "Smile." John Legend and Sam Smith added thrilling harmonies to Ben E. King's "Stand by Me."
Most were fine numbers, but vague promises of a better tomorrow sometimes rang false coming from multi-millionaires. The myriad of Grammy awards displayed ostentatiously next to Legend's piano as he sang about standing by one another was an awkward reminder of the different ways people are living out quarantine.
Some performances and featured guests also missed the mark. Eilish, accompanied by her brother Finneas, sang Bobby Hebb's "Sunny" with her typical lack of volume, ill-suited for the already low energy format of a digital concert. Ellen DeGeneres' address felt particularly uncomfortable, given the criticism she's received in the past week from her show's crew for the poor communication in regard to pay during the coronavirus shutdown.
It was when artists chose to not force cheer, but instead allowed themselves to feel real emotion, regardless of what it was, that the concert became special. Lizzo gave her all to a spine tingling cover of Sam Cooke's "A Change is Gonna Come." The Rolling Stones' performance of "You Can't Always Get What You Want" was delightful, in part due to the joyful surprise of Charlie Watts air-drumming along with the rest of the band, without so much as a wink.
Billie Joe Armstrong and Taylor Swift stood out among the pack for choosing songs explicitly about grief. Armstrong sang "When September Ends," originally written about the death of his father, to a haunting montage of empty streets around the world. Swift, visibly emotional, performed "Soon You'll Get Better," a desperate plea to her mother to recover from cancer. Lines like "This won't go back to normal, if it ever was," speak more honestly to people's current emotions than any sort of shallow call to just be happy.
While marketed as a sort of modern Live Aid, "One World: Together at Home" was far too flat to live up to expectations. Few of the numbers moved beyond cloying solace, and it's hard to feel excited about celebrities uniting when sometimes all they did was record a 30-second video. For a more enjoyable time, just choose any YouTube playlist. The effect is the same.