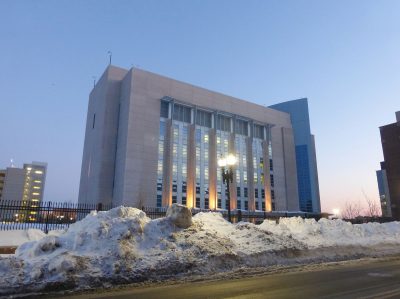 The Boston University research community have committed themselves to combating the coronavirus since the campus shutdown announced on March 17. Medical students, lab technicians and professors have joined an international movement of private institutions dedicating their resources and expertise to pandemic response. 
The BU National Emerging Infectious Diseases Laboratories announced at that time that they had begun researching options for COVID-19 vaccine development, as well as antiviral therapy development and general understanding of the disease's properties and spread.   
Mohsan Saeed, an assistant professor of biochemistry at the BU School of Medicine and researcher at NEIDL, said BU is uniquely predisposed to conduct this research, although it will take several months for the labs to reach any outcomes. 
"BU is in a unique position because we have this laboratory," Saeed said. "Here we have a [biosafety level 3] facility, which is required to work on this SARS coronavirus. Many other institutes in the city do not have this."
Despite NEIDL's swift response to the virus, Saeed said he believed it would still take many months for them to make considerable progress.
"All these things are going to take some time," Saeed said. "Because it's an emergency situation, even if we expedite it, I think it's not going to be less than seven to eight months."
To support a medical system under pressure, BUSM officially graduated the class of 2020 a month early on April 17. They did so alongside the other three medical schools in Massachusetts at the request of the Massachusetts Secretary of Health and Human Services, Marylou Sudders.
Karen Antman, dean of BUSM, wrote in an email that the decision came as part of the commitment of BUSM and Massachusetts' other three medical schools to supporting and contributing to the coronavirus medical response.
"We may need as many health care professionals as we can get, just about the time that these students will be graduating," Antman wrote.
Rachel Bocchino, a fourth year medical student studying internal medicine at BUSM, said she feels it is "an honor" that the deans of BUSM consider her and her classmates essential to the medical workforce, and have decided to send her into the field ahead of schedule. She also said the decision made clear to her the severity of the environment she will be entering. 
"It still kind of took my breath away when we got the email just because it really highlighted the severity of what is going on in our world right now," Bocchino said. "I have technically already finished my requirements to graduate, so it's not like anything really changed for me besides the date, but it still felt like 'wow, this is scary what's happening around us.'"
The School of Public Health has also turned its attention entirely to education and research surrounding the coronavirus. Sandro Galea, dean of SPH, has been especially vocal via social media and SPH platforms regarding the coronavirus outbreak.  
As chair of the Massachusetts Public Health Association's Emergency Task Force on Coronavirus and Equity, Galea has emphasized the importance of state policies that improve conditions for high-risk members of the community, including the disabled, elderly and low-income individuals. 
"We need to create guidelines and suggestions for the Commonwealth to make sure that we have policies in place to protect those who are most vulnerable in a [time] of change," Galea said. "Those groups we often don't think about, but those are the groups who are going to be most affected."
While SPH researchers and professors have contributed to several media stories regarding the virus, Galea himself co-authored an article in CommonWealth Magazine on March 21 outlining the Emergency Task Force's primary concerns. The article called for Massachusetts legislature to approve emergency paid sick time, greater duration and eligibility of healthcare coverage, ensured access to testing and treatment for immigrants and a temporary suspension of evictions, foreclosures and termination of public benefits. 
In addition to public policy work, SPH has been holding weekly online seminars and Facebook live events addressing various coronavirus-related topics, including the intersection between the virus and social media, mental health, politics and the future of the American healthcare system.
Galea said he believes the coronavirus pandemic offers a unique opportunity for medical researchers and students at BU to apply their knowledge toward progressing scientific understanding and innovation. 
"I think this virus highlights how much room there is for research and how much there is that we need to learn," Galea said. "A moment for us to do more science and better science." 
NEIDL researchers have also recently announced their development of a way to illuminate the virus using glowing antibodies, allowing the team to expedite testing of drug efficacy against the disease.  
Robert Davey, professor of microbiology at BUSM and NEIDL researcher, told BU Today that his team has begun using this new development to screen thousands of different drug compounds, and has been contacted by several biotech and pharmaceutical companies for screening in the past weeks.
NEIDL is the one of the few facilities in the country with the lab capabilities to work with pathogens as dangerous as the coronavirus, and Davey's team is the only lab group in New England to be working with live models of the virus, making their work particularly valuable to the Boston medical sector.
Davey told BU Today his team has received a donated cell-imaging machine from the lab equipment provider BioTek Instruments, doubling the lab's capacity to screen the ever increasing supply of incoming drug compounds. 
NEIDL has also made headway in examining animal models of the virus, which, according to BU Today, will allow the researchers to better understand how the virus is spread between hosts. 
In addition to professors, BU medical students, whose research has been put on hold, have turned their attention to the coronavirus. On March 23, the BU Center for Regenerative Medicine, in partnership with the Boston Medical Center, deployed an in-house test for COVID-19, and have been receiving and processing test results ever since.  
Aditya Mithal, a PhD candidate at BUSM and researcher at CReM, is a member of the test development team, comprised mostly of student and research volunteers from BUSM. Mithal said he and his colleagues joined the project as a way to make use of their time and knowledge, as well as the resources BUSM has to offer.
"We were trying to figure out how we could help and this opportunity presented itself," Mithal said. "We have a lot of equipment and we have a lot of technical expertise, but obviously we're a research lab and we're not set up to do any of this."
Although the labs at CReM were predisposed for test development, Mithal said the research team was able to set up a makeshift lab with the help of BMC, and had manufactured a working test within a week. The lab was able to expedite the test's approval process by applying for Emergency Use Authorization through the FDA. 
Mithal said he and the rest of the BUSM community are committed to coronavirus research and testing for as long as it is necessary to support Boston's medical system.   
"We're just going to chug along here for as long as we need to go," Mithal said. "We're here for the long haul, and we're hoping that we can just try and make a small contribution to keeping Boston safe and healthy."
Samantha Kizner and Sarah Readdean contributed to the reporting of this article.