Two Boston University teams had potential breakout 2020 seasons ahead of them that came to abrupt stops due to the coronavirus pandemic. Now, they're facing new challenges.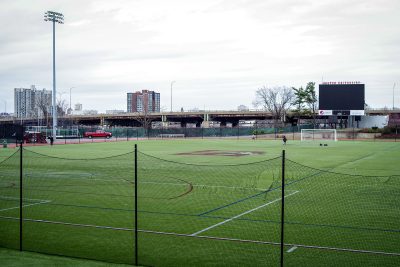 BU softball (14-8) coach Ashley Waters, BU men's lacrosse (3-3, 1-0 Patriot League) coach Ryan Polley and BU women's lacrosse (3-3) coach Lauren Morton are finding ways to keep a distanced team together through virtual means after the NCAA announced all spring sports would be canceled March 12.
Men's lacrosse picked up a win in their first PL game of the season against the Colgate Raiders (0-6, 0-2 PL), which ended up being the team's only conference bout of the season. The abrupt ending to the season discontented Polley and the rest of the team.
"Everybody was disappointed here," Polley said. "We were very optimistic about making noise in the Patriot League."
Waters shared similar sentiments, stating the difficulty of losing a season that contained high hopes and promises. The team's season came to a close at the start of the Easton Invitational, only playing one game against Long Beach State University. 
"When something was so good and so sweet, that's the hardest part," Waters said.
Morton also shared that the team was extremely confident heading into the spring after what she believes was an extremely productive fall of training. Her team went 3-3 in out-of-conference play and did not get to play any Patriot League games.
"I think it's hard," Morton said, "when you don't have that chance to display the fruits of your labor on the field." 
Communication across the three teams is taking place virtually on Zoom, and meetings take place on an individual and team basis.
Polley said there are three main ways he is both keeping in touch with the team and keeping the team together. He said he has coaches' meetings, which included himself and position coaches, plus team meetings on Friday afternoons. Lastly, there are academic groups of 10 players who meet with academic advisors to ensure that players are getting adjusted to BU's new remote learning model.
Polley resonated with the difficulty his team is facing in keeping his team together as one community and said a big problem is getting everyone to speak actively in group calls of around 50 people.
"It's just a different model," Polley said. "It's a lot easier when someone is in front of you to communicate and connect."
Waters has also been hosting large virtual calls with the entire team every Wednesday where he gives the players academic updates as well as any news from BU Athletics. Players are also given check-ins, where they are able to share how they are doing with the team. Furthermore, individual conferences are done by Waters with each player to discuss goals for next season and what can be done in the off-season to prepare themselves both physically and mentally.
Waters emphasized the importance of encouraging her players to stay in physical and mental well-being during the country's lockdown.
"[This is] just to give them a chance to have an option to get out of the house," Waters said, "or take a break from their academic studies to have some outdoor time."
Many business matters are being done virtually for Morton, the second-year coach. These include full-team calls, as well as calls with strength coaches where home workouts are coordinated with players.
Morton has also split her team in half for a virtual costume challenge. In this challenge, Morton divided half of her team as the "red team" and the other half as the "white team." Whichever team would have someone come on a Zoom call with the best costume—in Morton's view—would win a point.
"We've definitely tried to maintain some of the things we've had intact," Morton said about her team activities being moved virtually. "We've been adjusting well."
Although morale on Waters' softball team is staying up during lockdown, the five-year-coach said that face-to-face interaction is sorely missed. Both on and off the field, Waters highlighted how well her team clicks together. This is due in part to the team having the Fall semester to bond and become a family before heading on the field in the spring.
"I think for us it's a really close-knit program," Waters said. "You build a relationship through the fall and become connected on such a deeper level."
Polley faces similar issues and said he feels badly for his seniors, who who were not able to demonstrate their ability to lead, and how younger players on the team were not able to fully demonstrate the fruits of their training through the fall.
"It was obviously crushing for the seniors who didn't have this last opportunity to compete and see what they can do as leaders," Polley said. "And obviously all the underclassmen were all trying to salvage themselves and have the best years possible."
In the end, Morton said the fact that she and her team remain healthy after the cancelation of games is what is most paramount. Morton commended BU Athletics and the Patriot League in shutting down games as early as they did in the interest of health.
"It was absolutely the right decision," Morton said, "to protect everyone's health and safety to make sure we did our part in the bigger scheme."