After their Patriot League Tournament run was cut short because of COVID-19, the Boston University women's basketball team hopes to come back and clinch a conference title under third-year head coach Marisa Moseley. 
The league announced on Nov. 9 plans for basketball to return in January, with the Terriers slated to play 16 games before playing in the Patriot League Tournament in March.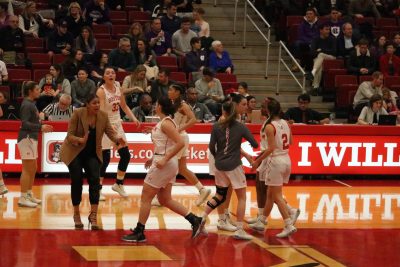 Last season, BU posted an 18-12 record, and a 12-6 record in the PL, leading it to the Patriot League Tournament semifinals before all athletics were canceled because of the pandemic. 
Moseley said she was disappointed the team's tournament run was cut short because she felt the Terriers were in a "good position" to win their next two games and move onto the NCAA tournament.
Despite this disappointment, Moseley was adamant in keeping her team healthy and safe when little was known about the virus in March. 
"As a leader of the team, I had to switch gears to safety mode and trying to figure out how we were going to get everyone home," Moseley said. "Are we going to get on a plane? Is that safe?"
Moseley continued to encourage safety as her squad returned to practice at team facilities. Players have to follow the rule of being tested for COVID-19 twice per week, which is required for all on-campus BU students, while coaches have to be tested once a week. 
The team has also modified practices for safety, including wearing masks and splitting up the team to practice with assistant coaches on different courts. 
Despite being unable to congregate as a full team, the Terriers are finding unique ways to bond and get to know new players. 
Moseley said the team has had much of their interaction over Zoom, but the situation is most challenging for the freshmen who have started off their college experience in these circumstances. 
Though they have not been able to integrate with the team as much, these freshmen have stood out to Moseley, and she credits them with meeting the challenge of practicing at the college level. 
"They have a lot to learn," Moseley said. "They're understanding how to work harder at the college pace." 
Some more-experienced players, such as sophomore guard Maggie Pina, have also caught the eye of Moseley and are staying motivated after achieving success last season. 
One player who didn't see the court last season was guard Emily Esposito, a redshirt junior transfer from Villanova University. 
After completing the mandatory one-year waiting period before competition, per NCAA rules, Esposito has been able to practice with the team. Moseley said she has been impressed with Esposito's "leading on the court."
"[It's] exciting about Esposito being able to be in practice every single day," Moseley said. "She's really meshing well with the players on the team." 
While BU does return several important pieces from last year's team, the Terriers will have to replace Nia Irving, who scored more than 1,000 career points. 
The Terriers will only compete against four opponents this season — all of which are members of the PL — in order to reduce travel and contact with others. 
BU has never won a league title since joining the PL in 2012 and has not advanced to the NCAA tournament since 2003, when Moseley was captain of the team. 
Despite the Terriers playing in a unique format this season, Moseley said their focus has remained the same and that the players remain motivated to accomplish their goals. 
"We're going in with the mindset that we're going to win every game that we play," Moseley said. 
BU will tip off its season against Holy Cross at home on Jan. 2.