The Massachusetts Legislature passed a police reform bill Tuesday banning chokeholds, allowing officers to report each other's inappropriate or violent conduct and creating a state-level oversight committee.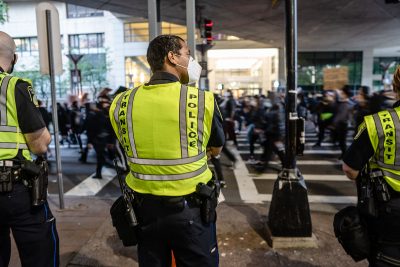 The Senate voted 28-12 in favor of the bill, and the House voted 91-67 in favor in two formal sessions. The decision comes after more than four months of internal debate — the bill was first introduced in July.
The bill aims to create a statewide Peace Officer Standards and Training Commission,  comprised of civilians who represent the state population in regard to race and gender.
The bill calls for more coordination between organizers of planned protests and law enforcement, mandating that police officers attempt to communicate with protestors if they are aware of a scheduled demonstration and plan de-escalation strategies in advance.
It also bars police from using teargas, chemical weapons, rubber bullets or dogs, unless de-escalation efforts have failed or there is an immediate, "proportionate" threat of violence.
The reforms come after a summer of nationwide protests following the killing of George Floyd.
The oversight committee will be the most impactful of the three major provisions, said Daniel Medwed, a professor of law and criminal justice at Northeastern University School of Law.
"Sunlight is the greatest disinfectant," Medwed said. "If we're concerned about police abuse …  having oversight and statewide accountability is a step forward because people obviously act differently when they know they're being watched."
The 129-page bill is the first comprehensive police reform effort passed in Massachusetts since this summer's protests, Medwed said.
The bill now awaits Gov. Charlie Baker's signature to go into effect.
Medwed said Baker is likely to sign the bill into law because it reflects measures he has already supported.
Baker proposed a statewide police certification program in June, but it was referred to the House Ways and Means Committee with no further action.
Carol Rose, executive director of the American Civil Liberties Union of Massachusetts, released a statement Tuesday night applauding the bill's passage.
"The ACLU is deeply grateful for the commitment and hard work by the House and Senate leadership to advance this bill," she wrote. "Their resolve to begin the process of dealing with police reform and racial injustice will help our state move closer to the ideals of liberty and justice for all."
Medwed added that Massachusetts citizens may not recognize changes being made to police conduct.
"Probably, the police will be dotting their I's and crossing their T's and be more careful in how they interact with civilians," he said. "But, I don't know if, on a day-to-day basis, it's going to change interactions all that much."
Because the bill is a compromise rather than a "dramatic overhaul," Medwed said, it is likely to be broadly accepted by Massachusetts residents.
Medwed said Massachusetts residents tend to be relatively progressive, but the bill has the potential to guide parts of other states' reform efforts, specifically the creation of oversight committees.
Because the bill takes a relatively neutral approach to police reform, Medwed said, it could gain traction in other states.
"It's not dramatic in the sense that it's completely reimagining how police interact with people," Medwed said. "It's evolution, not revolution."