Six Terriers earned points on Friday as the Boston University women's hockey team defeated the University of New Hampshire 2-1 in the first Terrier hockey game in more than 275 days.
The last time the two teams met, BU (1-1) swept their weekend series against the Wildcats (1-3) with back-to-back shutouts. Since the return to play this season, the Wildcats have faced Boston College twice, with both ending in losses for New Hampshire.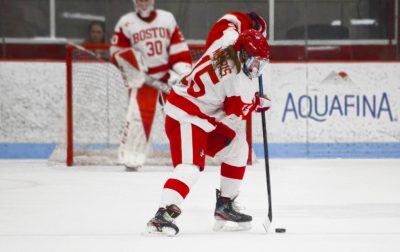 Senior captain Jesse Compher was the first to light the lamp for the Terriers. She shoveled in a pass with just three minutes left in the first period, with assists from junior forwards Courtney Correia and Mackenna Parker. 
BU head coach Brian Durocher said he felt the top line made the difference in Friday's game. 
"[Parker] plays extremely hard, extremely tough. She loves to play in the dirty areas of the game," Durocher said. "She's got straight-line speed. She can get from point A to point B pretty darn well."
For the Wildcats, both freshman forward Brianna Brooks and freshman defenseman Brianna Legros led aggressive rushes into the Terriers' zone, but were stopped by senior goaltender Corinne Schroeder.
Early in the second period, sophomore forward Julia Nearis gave BU their second tally of the night in a two-on-one rush alongside freshman forward Clare O'Leary, who was one of seven freshmen to make a collegiate debut on Friday.
Durocher praised the freshmen, along with his other players, for their performance and said they showed encouraging signs. 
"I was happy that as a group, they moved the puck pretty darn well. They have good hands and a pretty good sense for the offensive side of the game," Durocher said. "Great to see them get started, get a feel for the game."
Just three minutes into the third period, New Hampshire sophomore forward Tamara Thiérus slipped the puck past Schroeder, making it a one-goal game. The Wildcats had chances from  Brooks during the third period, including a wide-open 3-on-1 rush that was stonewalled by Schroeder.
Durocher said Schroeder showed a great deal of self-discipline and helped out the inexperienced Terriers' defense.  
"She had an awful lot of composure and that really kept her movement to a minimum," Durocher said. "We're going to count on her, and count on Kate [Stuart], to be the walls back there because there's going to be some growing pains for a youngish defense." 
One of those growing pains was trying to stay out of the penalty box, as BU had to kill five penalties in their first game of the season. Despite the Wildcats having five chances and the Terriers having two of their own, neither team could capitalize on the power plays, leaving BU with a narrow victory in Durham, N.H.
Durocher acknowledged the lapses and said the team will look to improve in playing well throughout the game.
"There was a couple inconsistencies," Durocher said, "but I think it was mostly in the third [period] when things get a little bit tight."
After two months of small-group practices and fewer full-team sessions than usual, Durocher said he saw plenty of excitement and energy from his team. 
"To get back and to play the game they love for real was an awful lot of fun for everybody," Durocher said. "They probably would've rode their bicycles up here to play this game."
The Terriers finished out their weekend series against New Hampshire on Saturday, which saw BU come up short in a 4-3 loss.