The Boston University women's hockey team split a two game weekend series at Walter Brown Arena against the University of Vermont Catamounts. The squad collected three out of the six points available and got their record back above .500 by the end of Saturday's matchup.
Friday night's competition was played in the memory of BU's honorary teammate Sarah Duval. Duval began her fight against leukemia in May 2020 and died earlier this week. She is remembered for her energetic personality and toughness. The Terriers played with "SD" stickers on their helmets.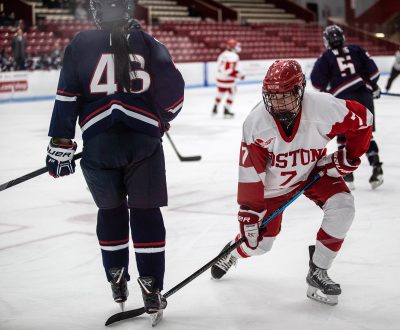 Vermont's hockey program had been paused since Jan. 14 following a positive COVID-19 test from a "Tier 1" member. This weekend was the group's first time back on the ice since the hiatus and they did not seem to miss a beat –– the Catamounts shut out BU in a 4-0 victory in the opening game of the weekend.
Catamounts freshman Jessie McPherson started in net for UVM, earning her third shutout of what's been just an eight-game season for her team. The netminder made a total of 22 saves by the last buzzer in the third, along with some key stops throughout the 60 minutes.
Terriers junior forward Mackenna Parker had a stellar opportunity in the first period on the power play, with an open shot in front of the crease, but the Terriers did not capitalize on the woman advantage. Junior forward Courtney Correia also came close to breaking the drought in the second but ultimately had no puck luck.
Heading into Saturday night's matchup, BU head coach Brian Durocher said his team just needed to get back to the basics. 
"In the end, it's up to them to execute," Durocher said in a press conference Friday. "They've played an awful lot of hockey and to make a tape-to-tape pass, to be a good receiver, it's well within their ability."
Saturday painted an entirely different picture for the Scarlet and White as the Terriers redeemed themselves with a character building 4-1 win. Captain and senior forward Jesse Compher led her crew with two goals and one assist that night. 
"Our team as a whole came out with a little bit more compete in us and I think we were ready to go today, so I think that helped a lot," Compher said in an interview after the victory. 
BU's other two goals came from Parker, who snapped one past McPherson in the opening minutes of the second period, and captain and senior forward Nara Elia with a tap in goal at the doorstep to start the third.
The team's goals per game average has increased by 0.7 since going into their series with Merrimack College — when they garnered a total of eight goals. BU's four-tally game is a good sign for the team who struggled with offensive production earlier in the season.
Junior Kate Stuart and senior Corinne Schroeder got a chance between the pipes this weekend and posted more than twenty saves each. Stuart got her second win of the season Saturday after shutting out Merrimack 6-0 a week prior.
Terriers assistant coach Tara Watchorn said she was happy with her squad's rebound performance and pointed to the cohesivity of their play in a postgame interview.
"It's nice to get the win how we got it, attention to detail, team goals through and through," Watchorn said in a press conference Saturday. "We were playing together as a unit of five, and to get on the board on our power play and to win the special teams game, I think it all kind of came together."
With Hockey East now announcing the schedule on a routine basis, BU's next opponent is undetermined, but the group will look to stay in the win column going forward.