The iconic Harry Agganis is a familiar name in the Boston University community — first-years pass his statue during orientation as they walk to the Agganis Arena, and students are even housed on "Harry Agganis Way."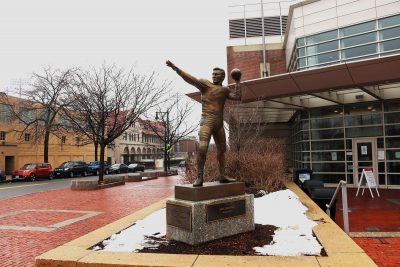 Harry Agganis, a BU football star and Boston Red Sox first baseman, graduated from BU in 1954.
Before his sudden death at 26 years old due to a pulmonary embolism — a blood clot in the lungs — in June of 1955, Agganis left only a handful of signed baseball cards.
Mike Knight Jr., a card collector from Waco, Texas, said he has one of only two that he knows exist.
When compiling a 1955 Topps autograph set over the course of three years, Knight said he needed around 14 cards to complete his collection. During his nationwide search, he said he struck gold in Kansas.
"I expected it just to be an average player that you could find a lot of," Knight said. "They said Harry Agganis. And I said 'Harry Agganis?'"
Shocked, he worked to make a bid, negotiating with the shop owner for a day or two to secure the authenticated card.
"Eventually, I was able to strike a deal and bring it home," Knight said.
He said getting that card was the "key to the set" — the rare gem of the collection.
"To me, finding that card is like a needle in a haystack," Knight said. "When I found that, I was just shocked because I knew that that had some major importance to the Boston area."
Before his untimely death, Agganis was not only a BU Hall of Fame inductee who graduated with 15 Terrier records, but he was also considered one of the finest athletes from Massachusetts — and still is to some.
On the same day Agganis graduated — June 6, 1954 — he hit a home run against the Detroit Tigers before heading to campus for commencement. During his short career with the Red Sox, Agganis played in a total of 157 games, with the batting average over .250, 11 home runs and 54 runs — already a legend in the brief time he played.
Knight said the signed Agganis baseball card will be up for auction in early April at the Robert Edwards Auctions, a premier auction house that specializes in coveted baseball memorabilia and cards. The rare card could begin bidding at $2,500, Brian Dwyer, REA president, told Beckett.com.
Knight said collecting baseball cards has been an important aspect of his life since he was about eight years old, and he's now been collecting for around 30 years.
He said he hopes the card helps Bostonians remember Agganis for his "major" contributions to the city. He said he would love to see the card be featured in the Agganis Arena or back with the Agganis family.
Andy Andres, a senior lecturer at BU's College of General Studies, said he teaches a variety of courses, from biology to baseball. His particular interest toward baseball started when he was very young, he said, and that interest still remains with him.
"Part of the reason I love it so much is I have fond memories of my grandfather teaching me how to read a box score," Andres said. "I've associated baseball with my father, my grandfather [and] my brother."
A long-time Red Sox fan, he said he has probably watched more games than the average person — he attends around 40 games at Fenway Park each year while working part-time for Major League Baseball, watches games on TV and listens to them at night.
Andres said Agganis is a "tragic story," but the athlete made great contributions during his life.
"He was so young and died, but he was such a great athlete for BU both in baseball and in football," he said. "He grew up locally, he grew up right outside Boston, so he was very much a local favorite of fans of the baseball team."
Agganis was the first All-American football player at BU, and Andres said Agganis was probably one of the best quarterbacks in college football when he played for the University.
Andre said he hopes BU students remember Agganis' legacy.
"I hope it encourages people to learn more about Harry Agganis, especially students who walk up and down Comm. Ave," Andres said. "He really is a great BU story, so I hope it goes viral, and people start talking about Harry Agganis again."