"Why BU?" prospective students are asked.
For minority applicants, it might be Boston University's purported diversity that draws them in. The Community Diversity admissions page claims BU has a "history of inclusion," from Martin Luther King Jr. to the first female doctor to the first Black dean at a predominantly white institution.
The University also offers a Multicultural Community Weekend experience to admitted students of color, jam-packed with classes and a cultural expo.
The marketing certainly paints a welcoming, metropolitan picture of BU as "one of the most diverse research universities in the country."
But the marketing is not representative of the school as a whole. In reality, BU is much less diverse, and minority students might be in for a rude awakening when they start their classes.
With a student body stitched together from 131 countries around the world, much of BU's advertisements focus on its international students, who are listed as their own category in the student body demographic statistics — but there isn't any further breakdown of their demographics or the distribution of students from each country.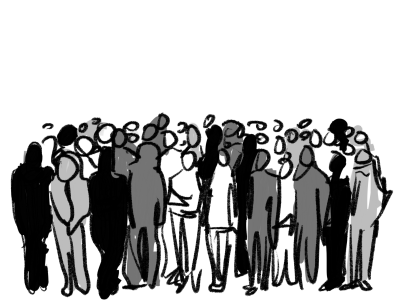 After becoming acquainted with the student body, you'll soon realize the distribution seems vastly uneven. For the international students who come from a less-represented country, it's possible they'll feel more alienated despite total international students making up 20 percent of the freshman population last year.
And if you look closely at the rest of the statistics, you'll see most of the student body is either white or Asian American. Less than 13 percent of the Fall 2020 first-year students were Hispanic American, and a shockingly low 3.8 percent were Black American.
That's less than one Black student for every 25 undergraduate students enrolled.
It should come as no surprise, then, that the classrooms reflect this tragically low percentage. On campus and in classes, it becomes increasingly clear BU is a PWI.
The few classes that have a majority of students of color seem to be cultural classes. For a school that is so multicultural and intellectually diverse, Black, Indigenous and people of color's voices are not well-represented in the curriculum or classroom.
We must actively work against such a homogeneous narrative — even if the students are not diverse, then the course content should be.
It's especially telling that BU doesn't offer an African American studies major to its students — only a minor — when they have virtually all other cultural studies as majors. Instead, the African American history and literature courses are made electives, deprioritized and thrown to the side.
The University should have BIPOC history or literature, that would normally be part of an elective, included in the mainstream curriculum. Professors should also try to promote diverse, decolonized and multifaceted discussions in the classroom by bringing in guest speakers or lecturers of color and fundamentally changing the way they frame their teaching.
Though BU's Teaching Writing website released a guide to "Choosing a Diverse and Inclusive Set of Texts" and the Diversity and Inclusion started an Inclusive Pedagogy Initiative, it's apparent that the message hasn't yet been adopted. As recent as Feb. 6, students on the Instagram account @blackatbu have posted about BU departments, such as the Philosophy Department, having a singular, western-focused approach to teaching.
As for the lack of student diversity within certain majors such as business, journalism, engineering and math, part of the problem is the University's culture. Students need to have role models, educators and mentors they can look up to and see themselves in. BU must further diversify its faculty and professors, especially in fields where we see a larger racial discrepancy.
BU's faculty is much less diverse than its student population, which is very upsetting considering the student population isn't extremely diverse to begin with. A 2018 faculty count indicated less than eight percent were faculty of color, with 3.5 percent Black faculty and 3.6 percent Hispanic.
The Community Diversity Page only describes the school's faculty as "intellectually diverse" and "distinguished." Its Diversity and Inclusion Data Dashboard only shows the percentage of change in the faculty and staff's demographics. In short, recent demographic data appear to be inaccessible to the public.
One might argue the University looks for decorated faculty, but the administration should be able to find professors who are more diverse and just as experienced. This representation is crucial so students can see people like them in fields they want to pursue. If you don't have mentors who understand you or can connect with you, you're going to be put at a huge disadvantage compared to your peers.
President Robert Brown has said BU will make a commitment to ensuring inclusive hiring and promotion policies. But on top of that, BU must stop tokenizing diverse faculties such as new deans of color. There needs to be representation on every level across the board, and BU needs to be intentional about how they tackle this issue — they cannot keep relying on a couple of figureheads.
It may also help to increase the wages of faculty in general so academics of color can be supported and able to take on a position at the University.
The campus culture toward minorities — specifically racial minorities — is also far from acceptable. From residential advisors to professors to parents to other students committing microaggressions or being actively racist toward you, BU perpetuates a hostile and unwelcoming environment for students of color.
BU may have more than 40 cultural groups on campus, but it shouldn't just be spaces students of color have to fight for or carve out themselves. Outside of those groups, there is little space for minorities to feel comfortable or included.
Of course, we can't discuss diversity or the lack thereof without also acknowledging that the major contributing factors are undoubtedly systemic.
Though the disparities in the student body might be attributed to deep-rooted issues such as public school segregation, the school-to-prison pipeline and economic inequality, it is also due in part to the college admissions process.
BU has a fairly comprehensive financial aid program that helps address some inequalities. As of last year, 100 percent of financial needs are met for admitted first-year students.
The school is making significant inclusivity efforts outside of financial aid as well, having formed a LGBTQIA+ Task Force, a Diversity Task Force and the Center for Antiracist Research.
At the same time, however, BU continues to contradict itself by acting in a way that is harmful to the very minority students it wants to attract and claims to support.
BU's marketing — and the handful of diversity victories — it clings to is not representative of its reality. Though it may be implementing anti-racist policies, the change is not visible in classrooms, on campus or at an administrative level.
The University needs to re-evaluate what immediate actions it can take to combat systemic barriers, increase Black and Hispanic diversity in the student body, address the subtle racist culture on campus and offer a more inclusive education.
Changing the culture starts with the policy, the faculty and the administration's behavior as it influences our own. It certainly will not be possible as long as the leaders of our institution continue to dismiss our concerns and perpetuate white supremacy on campus.
But the change has to come from the students as well. It is on us to promote a more accepting and inclusive culture that will not stand for the exclusionary, prejudicial behavior currently running rampant among our classmates.