Ashlie Dawkins has been creating and making art for as long as she can remember. Her mom helped nourish her love of art, and she became serious about her craft in middle school, wondering if it could be a career.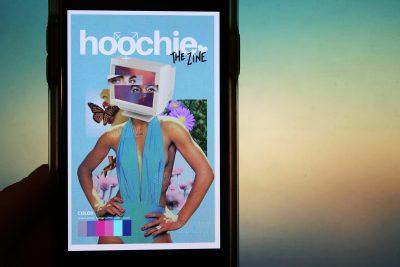 She found her love of graphic design in high school, and carried that love to the College of Fine Arts, where she is now a junior majoring in graphic design.
Dawkins is one of many Black artists at Boston University pursuing their artistic passion in CFA.
Graphic design is Dawkins' current medium of choice, she said, but lately her focus has been on the people around her. She said through the nature of her assignments, her designs have recently become "more political."
"A lot of my work recently has been focused on curating content from the people around me," she said. "Getting different perspectives and different point of views in my work."
Dawkins said she is passionate about art because of how it reflects the artist's experience.
"Through our work, our voices are heard," she said. "Art is a reflection of the person that's making it and of the time that they're making it in."
She said having more Black artists in the space — both faculty and students — will help amplify different experiences and outlooks, which coincides with some of her passions: making art more accessible and representative.
Johannah Coichy, a senior in the College of Communication, has a passion for art as well, though it's not her major. As an advertising major, she said she has been involved in several kinds of artistic ventures over the years, even majoring in theater at her performing arts high school.
"I found myself gravitating towards arts-related fields," Coichy said, "or just finding ways to create things."
While in college, Coichy said her love for art has grown, both with advertising and in other creative pursuits such as fashion and graphic design for publications. She said using art as a storytelling tool might be a future career path for her.
"I'm finding my niche is working on editorial design and using art and design to tell stories and create narratives," she said.
Coichy said she had the opportunity to create a four-garment collection for a fashion show through the Fashion and Retail Association at BU, which she said was her favorite piece of art that she has created.
The collection was created out of unique materials: trash bags, old mascara wands and paper plates.
"Then I painted over them to create sort of a structural garment, but also that had some flowyness to it," Coichy said. "The end result, it kind of looked like armor, even though it was free-flowing material."
Though Coichy said she is unsure how art will fit into her future, she said it is currently a welcome source of stress-relief and expression in her life.
"It's an outlet, it's how I sort of recalibrate my sense of self and it's how I express myself," she said. "If I'm having an off day, I'll go to art."
When it comes to being a Black artist on campus and amplifying Black voices, Coichy said she recommends students seek out supportive places.
"I would encourage other Black creatives or Black artists to find the places that help you grow and that you feel supported in," she said. "Your art can manifest itself in a variety of different ways but once you find those places that might help you nurture that I think those are super important."
Shamayam Sullivan, a sophomore painting major in CFA, said she has also been making art since she can remember, though her medium of choice has changed. Now, she tends to focus on mixed media, completing works not only in paint, but also in graphite or with collages.
Though she uses oil paint now, she said she started off drawing. She started painting because of the beauty in it, and chose that as her major of choice while at CFA.
"I was hesitant on which part of CFA Visual Arts I was going to take on," she said. "I really did painting here because it just has the most freedom, you can really work with all types of medium."
Sullivan said she believes it is important to make Black artists visible on campus because art can often convey what words cannot.
"Art is the medium that reaches everybody," she said. "Regardless of whether it's visual art or music or theater, it's just another language that everybody understands."
She said learning and elevating Black art is imperative in art and art history classes.
"It's crucial for us to dive in now and highlight those voices," Shamayam said, "because there's so many artists all over the world doing so many things that why not learn about them, why not take in more?"