Colgate University men's basketball took both games from Boston University in their weekend set Saturday and Sunday. The first game ended in a loss for the Terriers with the final score being 82-72, and the second game ended with a 78-63 final. 
Coming into the weekend at 5-6, including 4-1 in their last five games, the Terriers seemed to be back on a roll with hopes of avenging their previous showing against Colgate which ended with two losses, including a 44-point defeat. However, after three games in the past seven days, fatigue seemed to be catching up with the Terriers.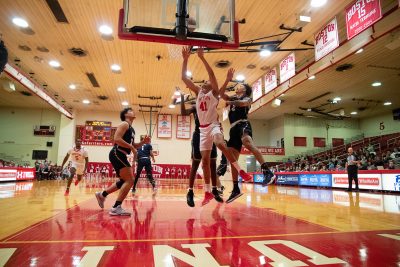 "We were methodical, sluggish to start the game," head coach Joe Jones said in a press conference Saturday. "Even when we had the lead, I was not happy with how we were playing."
The first half was very close, with neither team really establishing a lead until BU went on a 7-0 run to make the score 30-22. However, the Raiders would respond swiftly, closing the half out on a 18-4 run in just four minutes, pushing the team to a six-point lead going into halftime.
The Terriers responded in the second half with good bursts of energy and were able to bring the Raiders' lead down to one point, but they never took the lead again. 
"It caught up to us," Jones said. "I thought they got a lot of makeable shots that they missed … They deserved to beat us."
The Raiders were led by junior guards Tucker Richardson and Nelly Cummings, who each had 17 points, while senior guard Jordan Burns went through a rough shooting night, shooting 4/14 including 1/5 from distance to finish with just 11 points. To make up for the rough night, freshman center Jeff Woodward would chip in 15 points off the bench. 
For the Terriers, usual standouts senior forward Sukhmail Mathon and senior guard Javante McCoy led the team with 19 and 15 points respectively. Their performances were accompanied by a pleasant surprise from junior guard Fletcher Tynen who shot 5/5 from the field, including 2/2 from three-point range, for 12 points off the bench.
"[Tynen's] been great. I'm so proud of that kid," Jones said. "I went to the assistant during the game and I'm like 'We need that dude on the floor today.'"
Unfortunately, the performances from those three were not enough. Showings from junior guard Jonas Harper and redshirt freshman guard Daman Tate — 0 points, 0/7 shooting combined — derailed the Terriers' chances of making a comeback.
"Today, we didn't play great, but I'm telling you, I really believe in this team," Jones said. "I think we got a chance … We just have to be better within who we are. And then if that's not good enough, that's not good enough. I can live with that."
After an uncharacteristically bad performance from Burns Saturday, he led the Raiders Sunday by responding with a 15-point, six-rebound and seven-assist performance. Cummings, Woodward and sophomore forward Keegan Records would all also score in double figures for Colgate, who attempted just 12 three-pointers Sunday — a season low. Despite the low number of attempts, the Raiders would finish with 23 assists thanks to successful passing.
"They were able to get to the rim a lot,"  Jones said in a press conference Sunday. "We weren't really chasing, but then we didn't guard them off the bounce well enough … Some of that is on me, but the bottom line is, to be honest with you, we got to play with a better understanding of what we're trying to do."
For the Terriers, Mathon would lead the way again, this time with 14 points and six rebounds, while his teammate McCoy would finish with eight points. Tate and junior forward Jack Hemphill provided quality minutes off the bench as well with eight and nine points respectively.
"Those guys are talented players," Jones said. "We need some people that come off the bench that can give us some stability defensively."
In the hopes of finding that spark off the bench, Jones turned to freshman guard Miles Brewster who saw double-digit minutes for just the third time all season. 
"I did love [Brewster's] tenacity and his effort," Jones said. "His toughness was evident. We're not getting that enough from our starters … He was one of the guys off the bench that kind of gave us an energy lift."
As a whole, the Terriers shot 15.4% from three-point range, were out rebounded 35-28 and gave up too many easy looks, Jones said.
"We were thoroughly outplayed all weekend," he said. "We had some stretches in both games where we played up to our potential, but overall, we just did not get it done."
Moving forward though, Jones and the Terriers remain hopeful. 
"This is a team that we have that, if we can get through to them, and we can coach them, and we can get them to understand what we need to do at a higher level, this is a team that is more than capable of getting far," Jones said.
Next up for BU will be a Wednesday matchup against the 4-11 College of the Holy Cross, a team the Terriers will face for the sixth time this season.