The College of the Holy Cross men's basketball team defeated Boston University by a score of 86-75 Wednesday night. The loss marks the Terriers' third straight and brings the team's season record to 5-9. For the Crusaders, the win brought their total to 5-11, as they continue to inch closer to the Terriers in the standings headed into the playoffs.
The game began with both teams struggling to find a rhythm offensively. The Crusaders eventually went on a 22-4 run, bringing the score to 26-12 in favor of Holy Cross.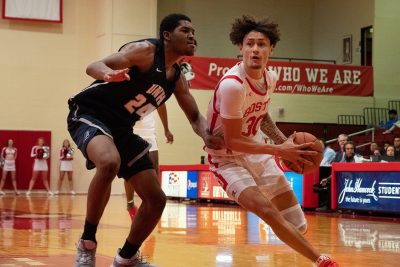 The Crusaders would maintain control for the remainder of the game, as the Terriers failed to consistently make key stops defensively. This was in large part due to the stellar performance from Crusaders senior guard Austin Butler, who had a career-high 30 points to lead the team. With junior forward Gerrale Gates out, freshman guard Judson Martindale also stepped up for the Crusaders with a career high of his own of 21 points. 
"Butler was awesome," Terriers head coach Joe Jones said in a post-game press conference Wednesday. "Martindale was terrific."
The production did not stop there for the Crusaders, as solid performances from senior forward Matt Faw — 16 points — and freshman guard R.J. Johnson — 14 points — propelled a Holy Cross team that only got five points outside of Butler, Martindale, Faw and Johnson. 
"We struggled to defend," Jones said. "[We] got beat off the dribble on straight line drives to the basket. No rotations, no help."
For the Terriers, senior guard Javante McCoy led the way with 22 points. While he had a very efficient day shooting the ball, his five turnovers proved costly to the Terriers' chances of mounting a comeback in the second half.
"[McCoy's] got to make better decisions with the ball," Jones said. "He's turned the ball over more this year than he ever has … That really hurt us in big spots."
Junior guard Walter Whyte enjoyed a bounce-back performance of 14 points and eight rebounds after a rough showing against Colgate University this past weekend. Sophomore guard Ethan Brittain-Watts also chipped in for nine points, although they all came in the first half as foul trouble halted the momentum he had built up. 
"We shot 52%, 40% from three, but we didn't even play good," Jones said. "We have to give Holy Cross a lot of credit."
This weekend, the Terriers will take on the 10-7 Army West Point Black Knights on the road in West Point, New York. The Black Knights swept the Terriers in their last series meeting in January.