The toot of the horns that would, in an otherwise COVID-19 free world, emulate from the tucked away band room in West Campus is absent. In its place, a limited chorus plays from the pep band's performance room, socially distanced and truncated from previous years.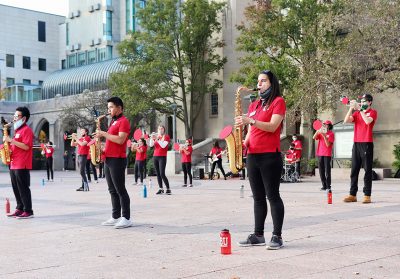 That sound isn't quite dead, though.
This Spring, the Boston University pep band is still up and running, pumping out its tunes in whatever way it can — though without wind instruments — be it through a Zoom call or a socially distanced and limited-capacity rehearsal.
"We ain't going anywhere," said director of athletic bands Aaron Goldberg. "We are not canceled."
The pep band, as well as the other bands at BU, are still operational, with the band program having reached its 100th and "weirdest" year in action, Goldberg said.
With more than 100 student members on its roster, the band's outside gatherings were capped at 50 people and its indoor ones at 25, while members stood 12 feet apart for practice last semester. This semester, BU's Medical Advisory Group updated restrictions by cautioning against wind instruments from playing in groups, but practices have still continued in a limited capacity.
As such, rehearsals had to be restricted, but they were still able to "keep the traditions alive," Goldberg said.
"We just basically did a few performances around campus in small groups in front of the [George Sherman Union]," he said, "not related to anything but just to try to bring a little life and energy to campus."
Pep band's play has come with expected changes and now splits off into what are essentially "small bands" as described by pep band manager, baritone section leader and College of Arts and Sciences senior Samuel Kamara.
He said the band still tries to get together virtually as a full band group, which helps foster community among members.
"Even though it's on a virtual platform, there's still that togetherness," Kamara said. "There was still that very strong sense of community that you wouldn't be able to see in person."
Conducting a band through a Zoom call, however, has proven itself to be difficult too, Goldberg said.
"Obviously it's a challenge internally," Goldberg said. "You know, how do you do band without band?"
Commitments to pep band have been reduced to about one event per week, Goldberg said. However, this semester, the events have more variation, with options such as rehearsal, social events, a simulation of athletic games and "SmartMusic assignments" to help students stay sharp.
With the limited commitment of the new semester, pep band has become even more of a social experience for students, Goldberg said.
"When you strip the music away, at least there's that social component, there's that school sphere component, and all of those have been really inflated now because that's all we've got," Goldberg said. "I expect that when we add the music back into the equation, hopefully starting this Fall, that we keep this bond that we've built."
He also said the Medical Advisory Group said it would "re-evaluate" mid-semester. If they make any changes, he said, pep band will "leap into action."
The pep band's rehearsals, whether in person or on Zoom, have taken advantage of BU's Learn from Anywhere technology to adapt the band experience to the socially distanced world of today.
"You make the best you can out of it," Goldberg said.
Victoria Paspalas, a senior in the College of Fine Arts and the saxophone section leader of the pep band and marching band, said the pep band's community has stayed strong despite limits the pandemic has placed on social interaction.
"Every marching and pep band that I've ever been in has really felt like a home and a community, so we've really wanted to keep that intact this year," Paspalas said. "I think we've been doing a great job of trying to do that."
Kamara said the smaller performance circles have also improved the musical ability of the performers.
"People are less reliant on their neighbors for their sound, and they feel that need to improve," he said. "When they see that improvement, they want to keep going."
Kamara said it's been much easier this semester to acclimate new students into pep band too, given that the immediacy and quantity of performances can be overwhelming.
"When we finally get back into the stands and we finally get back into games, you're going to see a whole lot more energy," Kamara said. "We are all crawling up and down the walls begging for the next opportunity to play, so when that happens, we're going to come out with a lot of energy."
Ultimately, the pep band has stayed strong throughout the COVID-19 pandemic, Kamara said, and will continue to improve.
"This pep band has not stopped for a single beat," he said. "We just want to make everybody happy through music, and everything that we've done so far has worked in a way that when we get back to playing, people will see that we haven't stopped, and I think that's going to be the best part about all of this."