Boston University women's basketball defeated Lafayette College 74-68 in the Patriot League quarterfinals Sunday. The Terriers will move on to face American University in the Patriot League semifinals Thursday.
The scoring in the first quarter was not in the Terriers' favor, as the Leopards led 18-15 at the end. BU was able to put nine points on the board in the last two minutes of the quarter, with scoring from four different players.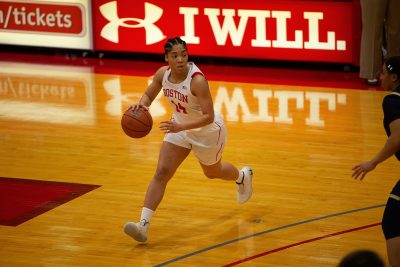 BU head coach Marisa Moseley spoke about how recruiting led to the depth of the Terriers bench, allowing them to have multiple scoring players on the court.
"It goes back to recruiting," Moseley said in a post-game conference Sunday. "We want five people on the floor at any given time that are able to pass, dribble and shoot."
BU got its first lead of the game in the second quarter with a three-pointer by senior guard Katie Nelson. The second quarter had more back-and-forth scoring than the first quarter, and the Terriers were able to come out with a 38-33 lead.
The third quarter featured stronger offensive play from the Leopards, as they outscored BU 18-14 in the quarter.  Before the last quarter of the game, BU led by only one point after a jumper by sophomore guard Sydney Johnson.
Johnson put up 19 points and nine assists against the Leopards during Sunday's match — the most out of any Terrier. Her four three-pointers throughout the game contributed to her success.
Moseley said Johnson was able to have such an impressive game because she has "great court vision" and "passes on the money."
The fourth quarter started with domination by BU that continued throughout the last quarter of the game. The Terriers enjoyed the largest lead of the competition at 15 points.
Three sophomores, including Johnson and Maren Durant, led the scoring for the Terriers. Sophomore guard Maggie Pina managed to score into the double digits Sunday.
Leopard senior forward Natalie Kucowski, senior guard Drew Freeland and sophomore guard Jess Booth led scoring and rebounds for Lafayette, but the Terriers' game plan limited these specific players to come out on top.
BU will return to Case Gym Thursday for the Patriot League semifinals against American. The Terriers qualified for the Patriot League semifinals last season, but the game was cancelled due to the COVID-19 pandemic.