As the average number of COVID-19 vaccines distributed each day nationwide rises past 2 million, according to The New York Times, there is still a question of equal distribution — particularly within marginalized communities.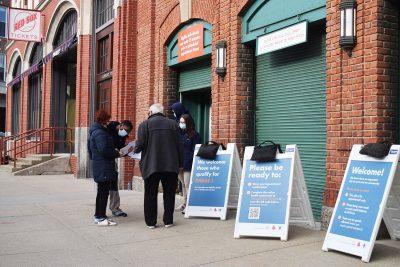 Massachusetts has been heavily criticized for what some have called an insufficient vaccine rollout plan. In mid-February, Gov. Charlie Baker released an equity plan to target 20 marginalized communities in vaccine rollout, including Boston and Chelsea.
The state announced Wednesday that eligible residents can "pre-register" for their appointments in an effort to make the process more accessible.
Dinanyili Paulino, chief operations officer of La Colaborativa, a social justice organization based in Chelsea centered around empowering Latinx immigrants, said she contributes much of the initial slow vaccination rates in Chelsea to the challenges some residents face when booking an appointment.
"We have a good percentage [of the population] that does not know how to read and write," Paulino said, "and the use of technology is very limited."
However, Paulino said it is crucial people in Chelsea have access to vaccines because many are essential workers in local meat and fish factories.
"They are the ones packaging our meat and prepping our vegetables, and they are not vaccinated," Paulino said. "This is the same case that can be said for our educators, obviously, and we alongside educators feel that essential workers should be on the front line to get the vaccine."
Aside from technical difficulties and language barriers, Paulino said some residents of Chelsea are hesitant to get vaccinated because of a troubled history between communities of color and the medical industry.
"Our community has been neglected for decades by government, and the whole issue of health and equity and racism on the health care system have impacted the level of trust that community members have," Paulino said. "We do see a percentage of people wanting the vaccine … this is why we are on the ground, door-knocking and educating our neighborhood."
Jean-Bosco Tagne, an assistant professor at the Boston University School of Medicine, said there is a lack of proximity between vaccination centers and poorer communities, which plays a role in reduced vaccine access for neighborhoods in those areas.
Tagne also said the spread of misinformation on social media has diminished people's trust in vaccines.
"People posted as doctors, health care professionals, community leaders," Tagne said, "are sending messages in social media in those communities 'please don't be vaccinated, it is dangerous for you, for the reproductive system, for your kid, for your families'."
Glory Ruiz, the director of public health programs at Boston Medical Center, said the BMC is aware of the disproportionate number of vaccines that are being administered in marginalized communities within the city and has been working to ensure everyone has equal access to a vaccine.
Though mass vaccination sites are able to vaccinate many people at once, she said having a "parallel" approach to specifically target underserved populations is equally important, especially because transportation and booking appointments can be barriers for some residents.
"COVID-19 introduced broadband access or access to internet and also digital literacy as another social determinant of health," Ruiz said. "Booking online could be a barrier for precisely the same, the exact same people that we're trying to prioritize."
Ruiz said BMC has been "really successful" in reaching people of marginalized groups when approaching from an intentional viewpoint.
"We took basically the communities on the map that are disproportionately impacted by COVID-19, who have a large proportion of persons of color, and then we superimposed that to make sure that we were placing the locations … where the colors were deeper, if you will," she said. "It's worked well."
Change does not only have to happen at an institutional level — Jonathan Huggins, an assistant professor in the BU department of math and statistics, said he and his wife, Diana Rastegayeva, observed the difficulties of scheduling appointments using the state's website, and decided to create their own.
What started out as an email list amongst family and friends quickly boomed into "Massachusetts COVID Vaccination Help" — a multi-platform, volunteer-run website helping eligible community members book appointments and "maximize accessibility" of the vaccine.
"It pretty quickly spiraled, both because of the number of people who were looking for help and the number of people who were really eager to help," Huggins said. "Before we know it, I was building this backend system for managing requests, and how to distribute those requests out to our volunteers."
Huggins created the website, which is currently available in English, Spanish, Chinese, Portuguese and Russian, and the forms are available in additional languages. He said it prioritizes individuals older than 75, people of color, individuals with accessibility accommodations and primary language barriers in an attempt to address inequalities in the rollout.
"We've directly booked over 3,200 people, and most of those are just in the last week or week and a half," Huggins said. "I don't know if I'd call it a system-level impact, but certainly a huge individual-level impact."
As far as the future of the website, he said he hopes it comes to a point where it's no longer needed — where equity is, finally, achieved.
"Honestly the best case scenario is that we're not needed," he said, "that the state puts in a system where we don't need to exist, where they make it really easy for people to get vaccinated."