The now year-long battle against COVID-19 forces individuals, institutions and businesses alike to wrestle economic burdens, and immigrant owned-businesses have faced disproportionate difficulties.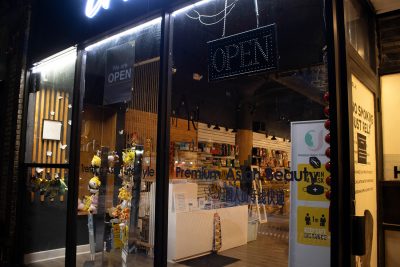 In Massachusetts, one in five members of the labor force are foreign-born, according to the American Immigration Council.
Natalia Urtubey, the director of small business at Boston's Office of Economic Development, said small businesses globally have been "deeply impacted by COVID-19."
Urtubey said immigrant business owners specifically encounter challenges because of language barriers as well as concerns about appropriate documentation.
"Immigrant entrepreneurs are some of the strongest and most resilient of all business owners," Urtubey said. "The pandemic has clearly had an impact on immigrant-owned businesses for various reasons."
Douglas Hauer, a lecturer at Boston University School of Law and an immigration and corporate lawyer at Mintz Levin, said Boston in particular is home to a large variety of immigrant-owned businesses, which have been severely hurt by the pandemic.
"If I were to take a walk with you through Boston … what you would find is that many of the restaurants are either owned or partially owned by foreign entrepreneurs, foreign investors," he said. "This sector has been demolished in this pandemic, and it's not likely to recover soon."
Vishal Thapar — co-founder of Boston Chai Party, a Dorchester company that sells freshly ground chai masala and fair trade black tea leaves — said the business lost its largest client and about 55 percent of their revenue at the start of the pandemic. From April to June of last year, the company did not receive any orders.
"Our wholesale business was completely shut off because of the lockdown," Thapar said. "All in all, we did suffer quite a bit of loss."
Thapar said online retail orders increased over the summer and holiday season, but the company has not "fully recovered back economically."
Boston Chai Party applied for a $2,500 grant from the U.S. Small Business Administration, he said, which "immensely" helped them afford rent for the kitchen and facilities. But if he hadn't had the support of his full-time job, he said he'd be in a very different position.
"Coming as a first-generation immigrant, it's exceptionally hard to take risks to start a business," Thapar said. "Many mainstream Americans, who have some family money or some sort of backing or some sort of support, can afford to take that risk but I do not think that as immigrants we have that choice."
Although small businesses are able to apply for loans and federal funding, Urtubey said some immigrants still find the applications particularly difficult due to language barriers.
"There's paperwork that needs to be signed, documents that need to be gathered," Urtubey said, "and they're not always super readily available and accessible."
Zoila Gomez, the managing partner of immigrant law firm Gomez & Palumbo, LLC said many immigrant-owned businesses do not apply for loans because many are unaware or uneducated about the benefits of the loans to immigrant communities.
"A lot of people had the misconception that this was a loan, and that you had to pay it back," Gomez said. "It was a lot of, I would say, negligence on the part of organizations, government and not understanding that there is this group of people who need the information to be delivered differently."
Additionally, Urtubey said Boston is well-positioned in having a "robust immigrant advancement team." She said the Mayor's Office has worked to offer interpretation services and workshops, as well as ensure there is equal access to funding and programs.
"There has been, I think, a very proactive approach from our office," she said, "to ensure that immigrant-owned businesses could access the resources available to them."
Boston also participates in a coalition in the Massachusetts Equitable PPP Access Initiative to ensure immigrant, minority and women-owned businesses can access loans, she added.
Though it may take awhile for businesses to recover, Hauer said immigrant businesses are essential to the country and foundational to its success.
"We don't really know the long-term impact, but we do know that Boston's restaurants and hotels are suffering," he said, "and a lot of those businesses were built by people who came here for the American dream."
He added he thinks American businesses and immigrant businesses are "one and the same" and deserve the same support.
"These are the most American businesses," he said. "The most American business is the business that somebody with a dream comes to the United States to form. How more American could that be?"