In early March of 2020, many of Boston University's club sports teams were gearing up for the warmer weather. Then the COVID-19 pandemic hit, and the majority of students were sent home for the semester.
Student-athletes returned to uncertainty in the Fall. Club sports would be allowed to practice, but they had no idea what the season would look like.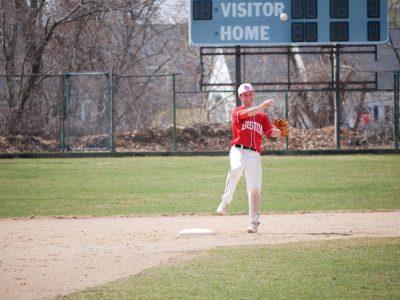 "The Fall was kind of sad because you're having a sport, but you're also not having it as you used to," said Julia Smithing, a senior in the College of Fine Arts and former president of club synchronized swimming.
Now, masking up and physically distancing at practices has become the new normal for members of BU's 34 club sports teams. They have learned to adapt to the University's COVID-19 policies, rising to the challenge of playing sports contact-free.
Men's club volleyball, among other teams, has had to adapt their practices. Per club sports guidelines, players must split into cohorts with a maximum of ten people per court, said Adam Chrysostomou, a senior in the College of Arts and Sciences and president of the team.
Volleyball normally requires six people on each side of the court, which is not possible with cohorts. Instead, the team now plays three-on-three matches in practice, and the court is marked with boxes so players can physically distance themselves.
"On the court, you have to be very communicative," Chrysostomou said, "just so there's no accidents and you know that you're not getting close to someone."
Contact-free practices are not new to women's club rugby. The team would regularly have contactless practices before the pandemic, said Kathryn Armour, a CAS junior and president of the team.
"We can't really practice contact every scheduled day because of the toll it takes on our bodies," Armour said. "We kind of just substituted the days we would be contact practicing with more conditioning and ball-handling work."
Social distancing is harder, Armour said. The team splits into three cohorts that spread across Nickerson Field, but keeping six feet of distance between teammates during passing drills can be difficult.
Synchronized swimming faces different challenges. The eight-person team does not have to split into cohorts, but they cannot practice elements that require connecting. At the beginning of the Fall, they held Zoom practices, Smithing said, but are now able to practice at the Fitness and Recreation Center. They are only able to practice some routines that allow for social distancing in the pool.
"You can't throw people out of the water, and you can't have that interaction," Smithing said, "but you can at least move together with the water and with the music."
BU does not allow club sports teams to travel this semester, and some tournaments have been canceled due to the pandemic. Chrysostomou said he was initially disappointed he would not be able to compete during his senior year, but he and the team are thankful they can practice at all.
"Not being able to play tournaments isn't ideal, but being able to run practices, still seeing the guys in the gym, even with masks, socially distanced, you still have that sense of camaraderie," he said. "It's still the sport you love."
Although women's rugby would like to compete, Amour said holding regular practices is great for the team.
"Having a BU-certified space to be able to hang out with friends and have a sense of normalcy is really nice," Armour said. "In terms of mental health, I think it's a great boost for most people on the team."
Going to practices and being with her teammates has been "a little joy," Smithing said. Although the synchronized swimming elements the team can practice are limited by BU's COVID-19 policies, she said it is one part of her life that feels semi-normal.
"It's just kind of nice to feel like you have a team again, and you are doing things together in the water," she said, "no matter that we are not doing everything the same way."