The Boston University women's basketball fell short in its first Patriot League Tournament final, losing 54-64 against Lehigh University Sunday at Case Gym.
Head coach Marisa Moseley utilized familiar starters including three sophomores, senior guard Katie Nelson and junior forward Riley Childs.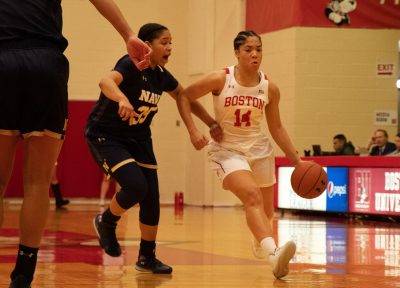 The first quarter was dominated by the Mountain Hawks with a 10-point lead against the Terriers by the end of the 10 minutes. Terrier sophomore guard Sydney Johnson led scoring for BU with 16 points, ending the season with an 11.9 points per game average — nearly four more than last season.
Nelson started off the scoring for BU in the second quarter to cut Lehigh's lead, but the Terriers came up short of gaining a lead. The second quarter ended 31-29 in the Mountain Hawks' favor, despite an 11-1 run by the Terriers in the last seven minutes.
Despite this scoring run, several Terriers, including top shooters Nelson and sophomore guard Maggie Pina, did not make many shots.
"We've seen this kind of story before," Moseley said in a post-game conference. "When shots aren't going in for us, it's a lot harder for us to win."
BU took the lead at the beginning of the second half, but Lehigh was quick to take it back, with efforts by sophomore guard Frannie Hottinger and junior guard Megan Walker.
Hottinger and Walker were two of three Mountain Hawks to sink 10 or more points against the Terriers, along with junior forward Emma Grothaus. 
The rest of the quarter was a back and forth between both teams, but a series of three-pointers by freshman guard Jamie Behar and senior guard Mary Clougherty put the Mountain Hawks ahead going into the fourth.
In the last quarter of the game, the Terriers could not pull out a win and fell short of the NCAA tournament by 10 points. 
Moseley said several of Lehigh's strategies, offensively and defensively, made success difficult for the Terriers.
"They spread us out a little bit defensively and they exploited our center," Moseley said. "We were a little bit afraid of the threes. We didn't want to sit on that high post too much and give up wide-open threes."
Moving into next season, Moseley said her team needs to make improvements over the summer to be able to "take a step forward."
While the Terriers do not have any more games this season, Moseley expressed excitement about next year and what her team, especially the younger players, will be able to accomplish.
"You hate to try to turn the page, but you can't go back," Moseley said. "We just got to look forward."