Jess Mariano is the best of Rory Gilmore's boyfriends in "Gilmore Girls," and I will not apologize for that.
Jess' character gets a lot of backlash from fans who feel he was a bad influence on Rory, the straight-edge, Yale University-bound protagonist. I cannot agree with this discourse. I think they were the best relationship on the show, but I could be biased in my love for Milo Ventimiglia, the actor who plays Jess.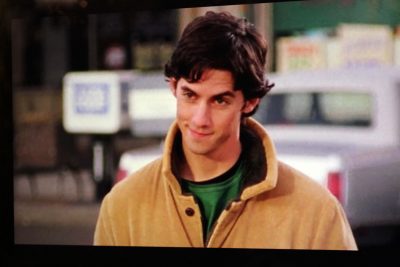 Jess entered amid Rory's first relationship with Dean Forester, the tall, boy-next-door type. Jess' mother sent him to Stars Hollow to live with his uncle Luke Danes, who was meant to help him get on the right track.
I admit, he seemed like a sarcastic pessimist who hated the situation he was forced into — at first. But it makes sense considering his family life. Jess exemplified teenage angst at its finest, and I was all over it at 15 years old. 
As the series progressed, Jess became the harmless outcast of Stars Hollow, causing minimal damage while never quite accepting the reality of life in the small town. He was only able to connect with Rory through their animated discussions and love of books.
Jess slowly worked his way into Rory's life as he worked at Luke's Diner, always popping in at the perfect time with a quip about the town's quirkiness or whatever book Rory was reading. The two always shared a love for reading and music, often making multiple pop culture references in short conversations. It was clear they had interesting conversations beyond the casual chats Rory and Dean had.
Their eventual relationship was a culmination of so many shared moments that finally came to fruition. This may have been my favorite era of the show — it was before Rory was off at Yale and all the drama that came with that, and Jess was there. They were a cute couple who had the best chemistry, compared to Rory's other relationships throughout the series.
However, Jess was still the "bad boy," and occasionally he was not the best influence on Rory. I still argue that he never had malicious intentions to put Rory in harm's way. Most times, he wanted to help her break out of her bubble and open her eyes to new experiences or ways of thinking.
Jess truly displayed how right he was for Rory after he returned from living in California with his dad. He came back as a new man, one who wrote a novel and joined a publishing company in Philadelphia. All this while Rory's life was in shambles — she dropped out of Yale, she was living with her grandparents and she was generally in a major rut. It was Jess who reminded her that none of these things aligned with who she was, that she was better than this. 
Jess proved how well he knew Rory every time they reconnected throughout the show. He truly cared about her and wanted her to reach her full potential. He gave her tough love in season six, and he loved her enough to snap her out of the dull life she fell into while he was gone.
I could truly go on and on debating why Jess was the best partner for Rory. Sometimes the argument feels a little irrational — rambling about how when he held out that umbrella for her in the diner so she wouldn't get hit by construction debris — but I truly feel the arc of the show would have been improved if Jess was there for Rory just a little bit more.