A woman named Chastity Jones was offered a position as a customer service representative in 2010. She was asked to cut off her dreadlocks because the hiring manager reportedly said "they tend to get messy." Her job application was rescinded after she refused to do so.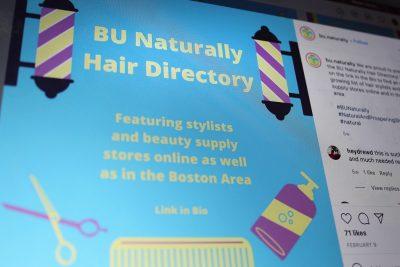 Although this happened more than a decade ago, Jones' case is not unique — children have been barred from going to school with certain hair styles, and many people in the Black community have faced discrimination for their hair in the workplace.
But change is coming: States and cities have passed legislation outlawing hair discrimination, and human rights organizations have been advocating for the cause. And students at Boston University are also working to support natural hair.
BU Naturally — an on-campus organization — celebrates, inspires and uplifts natural hair and the community at large through self-love, service and education, said Ronunique Clark, a senior in the College of Arts and Sciences and the co-president of the organization.
"Personally, as we advance as a society, we see more now that natural hair is starting to become a norm," she said. "We just want to just keep promoting it and making sure it keeps moving forward, and helping women be able to embrace that look."
The club was officially founded in April 2019, Clark said. Prior to that, BU Naturally was a part of a larger organization called Campus Curlz, but branched into its own organization to better meet the community's needs, she said.
"We did not feel like that umbrella organization was meeting the needs of BU students or what we wanted to do for the BU students here on campus," Clark said. "We … branched off from Campus Curlz and wanted to just do our own thing that can really cater to our community personally."
The club — whose slogan is "natural and prospering shine" — has been working since its founding to foster community and host events empowering people with curly hair and any style in between to embrace their natural beauty.
Naomi Boye, a junior in the Questrom School of Business and BU Naturally treasurer, said education is also a significant component of the club's duty.
"I think it's important for people to learn how to do their hair," she said. "People are so used to wearing their hair straight now that if they want to wear it natural, they don't really know what to do, they don't know how to take care of it. So, I think we aid in that process as well."
In the past, the organization has held in-person interactive events, including larger events under Campus Curlz called "Curlz Night Out," which she described as a "big expo" involving live demonstrations of different hair styles from a stylist and a talk on the history of hair in the United States.
Pivoting throughout the pandemic, the group now hosts virtual "Curl Chats" when club members can gather and converse about a new hair-related topic to maintain community despite the physical distance.
In addition to casual conversations and activities around curly hair, BU Naturally also holds discussions regarding microaggressions that are often centered around Black students' hair.
The organization recently partnered with Black Business Student Association to host a panel discussion where students were given the opportunity to share their personal experiences with wearing natural hair in the workplace.
"Talk about people's personal stories as well … what can we do as a society to make people more comfortable while wearing their natural hair," Clark said. "We definitely have these conversations."
Clark said BU Naturally is working to create acceptance beyond the organization as well.
"We definitely have these conversations when we have meetings or things like that amongst each other," she said, "but I definitely think we are working more towards putting it more out there."
BU Naturally recently hosted a giveaway for Valentine's Day of sample-sized hair products, Boye said. Clark said there will be another installment of "Curl Chats," as well as an information session called "Natural Hair and Me" discussing what natural hair really means.
"We've known all our life to take care of our hair, and now hairstylists are saying no, that's not the proper way to do it," Clark said, "so how are we going to transition from this way we've been learning all our lives to this newfound way of what natural hair should be?"
Boye said in the future she hopes the club can host more "hands-on events" related to hair care and style. She said as far as the natural hair movement as a whole, she wants there to be more acceptance.
"There is kind of a focus on having super-defined curls and … having your hair look perfect all the time," she said. "I think we could work on being more acceptable of just having a messy hair day."
The organization is hosting an information session at their next "Curl Chat" Tuesday, and is currently recruiting for multiple positions, including vice president, secretary, program directors, as well as committee members on the outreach and blogging team.
"We just want to just keep promoting it and making sure it keeps moving forward, and helping women be able to embrace that look," Clark said, "whether that's straight hair, whether that's curly hair, whatever it needs to be, but just embracing one's natural hair in beauty."