Boston University's plan to reopen for in-person classes this Fall has students and faculty feeling cautiously optimistic. While some may be eager for normalcy, BU public health experts emphasize the importance of vaccinations and continued compliance to safety measures to make the return possible.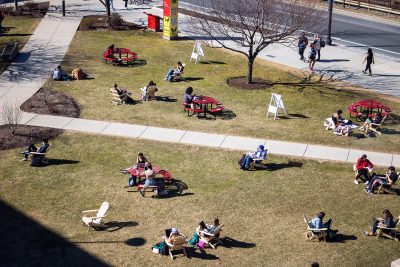 David Hamer, a BU professor of global health and medicine and a member of the Medical Advisory Group, said he thinks the state is moving in the right direction, given declining transmission of COVID-19 and increasing vaccination rates.
"We were able to get through the semesters … without any major outbreaks or major super-spreader events," Hamer said. "If the vaccination campaign continues to scale up, and there's a good level of acceptance, I think rates of transmission are going to drop to much, much lower levels."
He said he's "an optimist" in regard to the University's plans, and fully reopening is reasonable, though vaccinations, COVID-19 safety measures and a degree of testing are important factors in ensuring that stays true.
Because of the current vaccine rates and the number of people with antibodies, he said he thinks reaching herd immunity by September is "definitely achievable." The "real question" then, he said, is if people's reluctance to get the vaccine will interfere.
"There's definitely, I think, a substantial proportion of people that are hesitant to get the vaccines," he said. "I think we're going to get to 50 to 60% [vaccinated] pretty easily, and the next 20% or so is going to be more of an uphill battle."
Hamer said current vaccines do provide some protection against other strains of the virus. However, he said it is possible there will be future mutations of COVID-19 that the vaccines won't be effective against.
"We also need to keep monitoring for new strains, but so far these variants of concern and the mutations on the spike protein do not seem to have evolved far enough away that the vaccine will not cover them," he said. "That's likely to happen in the future though."
Michael Siegel, professor of community health sciences at BU, said he does not think the variants would greatly threaten vaccinations in the coming months.
"It seems unlikely that a mutation would be able to develop within the next four months that would create conditions that would wipe out the effects of the vaccine," Siegel said. "It just seems incredibly unlikely."
On the question of how soon the country will be able to reach herd immunity from mass vaccinations, Siegel said he's confident the goal can be reached if vaccines continue to roll out at the current rate.
"Typically when you get up to about 75, 80% of the population vaccinated, you can get to a stage of herd immunity," Siegel said. "If we are able to convince enough people to get the vaccine, then it's certainly possible that we'll get to that level of herd immunity."
Hamer said anti-vaxxers are a "vocal minority," but some people are hesitant about the vaccine because of systemic wrongdoings.
The history of medical malpractice and oppression, especially against Black individuals, has created lasting mistrust that carries through to the COVID-19 vaccine, Siegel added. Along with widespread misinformation, this poses challenges to achieving herd immunity, but it can be addressed.
"There are obstacles in the way, but we can get there," Siegel said. "There's no question that it's something that we can do, it's just going to take a lot of public health campaigning and education to try to overcome those barriers."
Laura White, an associate professor of biostatistics at BU, said she is encouraged by current statistics, especially regarding vaccines and their ability to protect against variants. However, she said safety precautions should not be lifted.
"It's just a basic rule, that the more the virus is allowed to transmit, the more opportunity it has to mutate," she said. "That's where I think we need to still mask, we need to still be careful and vigilant. We just don't want to give this virus more and more chances to get more effective."
However, White said she is "comfortable" with the University's Fall plans, especially given that some degree of safety precautions will likely be upheld.
"I feel pretty good about where we're at as a University for coming back in the Fall," White said.
She added mental health — which she said the pandemic has been "detrimental" to for some students — is also an important aspect of reopening.
"It's hard to know how to weigh those two against each other," White said, "but my sense is the risk from COVID, it's no worse than the risk of people struggling with isolation, with mental illness and some of the academic struggles that come along with that."
Each expert agreed the months ahead will be a critical final push to the end of the pandemic, but people must continue to do their part to prevent the further spread of COVID-19.
Overall, White said she is satisfied with BU's Fall plans, while still keeping in mind some precautionary measures.
"We're not going to be completely out of the woods in the Fall," she said, "but I think the campus should be a safe place to be."