Tenants of the Fineberg Companies rental corporation protested outside The Institute of Contemporary Art Boston Saturday afternoon — calling for better living conditions and increased communication from management.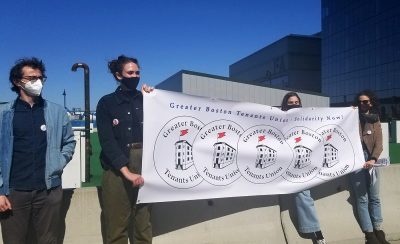 Gerald Fineberg, founder and owner of Fineberg Companies, is a member of the ICA's Board of Trustees and a major donor.
Dan Albright, a Fineberg tenant and organizer with the Fineberg Tenants Union, said to the crowd that corporate landlords like Fineberg "play benevolent art philanthropist" while charging extreme rents and providing little maintenance.
"Mr. Gerald Fineberg, consider this your eviction notice," Albright said publicly.
Albright said the tenants of Fineberg's buildings have endured ignored maintenance requests from building staff, poor facilities such as dilapidated walls and illegal evictions during the COVID-19 eviction moratorium.
The 140-member union sent petitions to the company, filed housing complaints with the City and wrote to Fineberg himself, Albright said — all to no avail.
"Mr. Fineberg, you can't ignore us now," he said, as the crowd cheered. "We are here at your high society stomping ground, not just Fineberg renters but renters from across Boston."
The union wants to meet with Gerald Fineberg to negotiate decreased rent payments, improved living conditions and zero evictions through the pandemic, Albright said.
"Our exploitation is what makes landlords like Fineberg filthy rich," he said. "We are going to bring you to the bargaining table. We are preparing to go on rent strike. And we will win."
The crowd chanted with Albright: "Lower rent, no evictions, Fineberg, improve conditions!" 
In an interview, Albright said the protest took place outside the ICA because Fineberg is a prominent patron and board member, with a wall gallery in his name in the museum's lobby.
"We're calling out the hypocrisy of him trying to act like he's a benevolent art benefactor when actually he's exploiting tenants," Albright said.
The Fineberg Tenants Union promotes equitable living for all tenants of Fineberg's buildings, not just the union members, Albright said.
"Greedy landlords are going to try to get away with as much as they possibly can," he said. "But we're not going to take it anymore."
Jennifer Dill, a member of the union's leadership board and resident of a Fineberg property since September 2019, said in her speech that she experienced a multitude of problems when she began living in a Fineberg property with her roommates.
"The water temperature was so bad that we had to have maintenance come out at least five times within the first three months to look at why our showers were so cold and our sinks didn't have hot water," Dill said.
Dill said a replacement refrigerator broke down immediately and a malfunctioning radiator created sweltering conditions in the unit — adding that maintenance workers were sexist and often entered their unit without announcing themselves.
And when she and a roommate lost their jobs due to the pandemic, Dill said Fineberg did not offer deferred rent or payment plans despite their positive payment record.
"We're not going to stay silent, and we're not going to stop fighting," Dill said.
In an interview, Dill said Fineberg's poor practices have been an issue for years, but residents began communicating with one another during the pandemic.
"[Fineberg] helps out with museums and trying to get art noticed, which is awesome," Dill said, "except for the fact that behind the scenes, he's treating his tenants like dirt."
In cooperation with the Greater Boston Tenants Union, she said she hopes the Fineberg Tenant Union's actions can stimulate change.
Ross Cohen, another member of the union leadership board, read the crowd a quote Gerald Fineberg told Boston Magazine in 2010.
"Twenty-five years ago, new artists were affordable, so it was okay if you made a mistake," Cohen read. "Now, after three years of working, they're up into six figures. You can't afford to buy them."
He said tenants' requests have been repeatedly ignored — that "perhaps there are other subjects that are too expensive."
"I ask Fineberg Management, are basic human rights too expensive?" Cohen said. "What is the price of human life?"
Cohen said despite Fineberg's proclaimed love of the arts, his practices adversely affected Boston artists as a whole.
"An artist requires adequate living conditions to contribute to their best ability," Cohen said. 
Fineberg's mistreatment is symptomatic of landlords in general, he said, in Boston and the United States as a whole.
He added in an interview that tenants have endured stolen packages, erratic temperatures between sweltering and icey cold and disrespectful treatment from staff. 
"We hope that this will be the last step, and he'll be able to see reason," Cohen said. "But likely it's not, and this may become a long journey."