By Emma Vacirca and Lily Kepner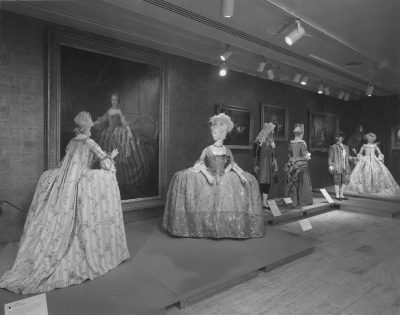 Netflix and Shondaland's "Bridgerton," an eight-episode drama set in the majesty of England's Regency era, was a sensational Christmas Day treat for many romantics.
The extravagant period piece ensembles, especially in each ballroom scene, made the show stand out, even earning it a Costume Designers Guild nomination for Excellence in Period Television.
Each costume in "Bridgerton" was handmade, IndieWire reported, and 7,500 costume pieces were made in total — an average of about 937 pieces per episode.
Experts in costume design from Boston University gathered for a BU event titled "Period Costume Design Through the Lens of Bridgerton" Thursday to discuss what it takes to bring period costumes to life.
The event, sponsored by the BU Alumni Association, the College of Fine Arts and the School of Theatre, featured industry professionals, CFA alumni and professors.
At the panel, speakers voiced their professional opinions on the costume design in "Bridgerton" and discussed their experience in the industry.
Moderator Susan Mickey, the director of the SOT and a professor of costume design, said she teaches three elements of design she believes everyone starts from: "color, line and texture."
"I always say every designer starts from one of those points and we all have our own process," Mickey said at the event.
Penney Pinette, a costume shop manager and 2016 CFA alumna, responded to Mickey, saying she thinks the "line" element was important to "Bridgerton" because the historical silhouette of the period pieces was familiar, but designers had freedom to explore color and texture in other areas.
The panelists also discussed why the costume designers in "Bridgerton" made certain choices that strayed from historically accurate depictions.
For example, panelist Mara Blumenfeld, a Chicago-based costume designer, said at the event the show is a great example of a "stylized approach" to costume design, where the structure of the pieces are true to the period, but fabric is purposefully not, in order to function as an artistic tool.
"These are not textiles on the women's gowns that we would typically be seeing in the Regency period," she said, "but [the costumer designer] is doing it to great effect because those really bright acidic colors and bold florals are telling us a lot about the Featherington family."
Blumenfeld also said the context of a performance, whether it is on screen or on a stage, affects how costumes are created.
"There's a million practical considerations," she said, "particularly with theater where you're doing seven or eight performances a week, and the clothing has to take a different level of wear-and-tear than it does even on a film shoot."
The importance of the story, however, is a common theme not just for this show, but for many different productions. Mariann Verheyen, associate professor of costume design, said at the event her personal costume design involves close reading of the story and working with the director.
"When I'm reading a script the first time, I'm running charts and questions simultaneously," she said. "On my second take, because I've done this putting it in my head, I can see it come alive more."
The panelists contrasted an outdoor production of "Pride and Prejudice," where the fabric had to be very durable, to the designers of "Downton Abbey," who had more liberty and used delicate fabric.
Maia Soltis, a junior in CFA studying costume design, said despite "Bridgerton"'s wardrobe straying from historical accuracy, she did not think it distracted from the performance but rather drew attention to the story.
"My big thing is that it should be about the characters and it should be about the story and telling that story," she said, "more than keeping to the period in any specific way."
For example, "Bridgerton" actors did not wear shifts, a type of undergarment, under corsets, which Soltis said was most likely an intentional choice when it came to plot.
"This show is supposed to be sexy, and linen shifts are not very sexy," she said, "and they're also another layer to take off."
Though "Bridgerton" did receive some criticism because of such design inaccuracies, Soltis said she thinks designers should be allowed to exercise more creativity when building this world.
"The world that 'Bridgerton' is in is not Regency, like accurate Regency," she said. "The way that they sort of took Regency and then made it high fashion and fun and this fantasy world, idealized version of it, I really like."
CFA junior Amanda Caswell, who's studying costume production, said her favorite-dressed characters were Penelope and Queen Charlotte, and she specifically enjoyed how the colors of the Bridgerton and Featherington families seemed to represent their societal status.
Though the inaccuracies of "Bridgerton" initially stuck out to her, she said the more research she did on the choices behind it, the more she enjoyed it.
"It wasn't really supposed to be a historical representation of the time, it was more a fantasy," Caswell said. "Once I accepted that, I fell in love with 'Bridgerton.'"