After 17 months away from New Balance Field, Boston University field hockey beat Colgate University 2-1 in its home opener and is undefeated to open the shortened season. BU has a 10-game win streak against Colgate, dating back to 1984.
The Terriers (3-0) and the Raiders (2-1) were scheduled to play an additional game Sunday that was canceled because several BU players were in self-quarantine or isolation due to COVID-19 exposure. Half of the team was unavailable for Saturday's win, which head coach Sally Starr said was one of the proudest moments of her career.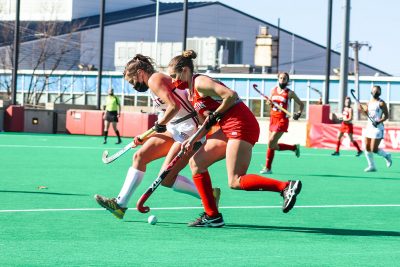 "They gutted it out, they played hard, they played well, they played tough," Starr said in a press conference Saturday. "It's just a great moment."
The first half was decisive in a game where neither BU nor Colgate had many scoring opportunities, tallying just three and four shots on goal, respectively.
The Raiders struck first on senior forward Taylor Casamassa's converted penalty stroke in the sixth minute. Colgate earned another opportunity on a penalty corner three minutes later, but BU freshman goalkeeper Kate Thomason blocked senior forward Meghan Minturn's shot to preserve the 1-0 tally.
The Terriers equalized at the beginning of the second period when senior fullback Kathryn Scheerer fired a shot off freshman midfielder Thalia Steenssens' penalty corner to tie the game at 1-1 — Scheerer's second goal of the season.
Sophomore forward Ellie McIntyre picked up her first goal of the season in the 27th minute, which proved to be the game-winner, putting BU up 2-1. Steenssens picked up another assist, her second of the game.
The second half was quiet for both teams, who each made four shots. McIntyre had an opportunity to add an insurance goal for the Terriers in the 57th minute, but Colgate junior goalkeeper Anna Unger blocked her shot, earning a save.
The Raiders had two additional scoring opportunities in the fourth period, but Thomason made two saves against sophomore midfielder Mari Kniezewski and Minturn to preserve the Terriers' third straight victory. Thomason, who made her collegiate debut Saturday, rose to the occasion with total confidence, Starr said.
"Kate has really done a super job of just getting better and better," Starr said, "and she was ready for the moment because she practices hard every day and takes advantage of every opportunity that she gets."
Fellow freshmen forward Tess Csejka and fullback Brooklyn Lamb joined Thomason in making their collegiate debuts, and freshman midfielder Pili Alvarez and McIntyre earned their first collegiate starts. With Saturday's win, BU added three conference points and now leads the Patriot League Conference.
"We're counting nine points today, and there was never a doubt that we could get it done today," Starr said.
The Terriers have a bye next weekend before facing the College of the Holy Cross April 11 at home. Starr said her biggest priority moving forward is bringing back a healthy team so they can continue to improve in all aspects of the game.
"Let's get us back together and get us back to playing some really good hockey," Starr said, "and get healthy."