With the March 16 shooting in Atlanta that killed six Asian women and the more recent assault against a 65-year-old Asian American woman in New York City Monday, the United States is witnessing physical and verbal attacks against the Asian community throughout its borders.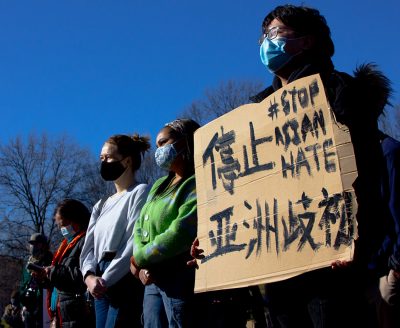 And at Boston University, Asian students are not immune to such hatred, discrimination and threats to their safety.
Spencer Yeh, a sophomore in the Questrom School of Business, is an Asian American from New York. Yeh said having grown up on Long Island, a predominantly white area, he hadn't experienced "plain racism" until recently.
By Fenway Park, just over a week ago, Yeh said he was walking back from Northeastern University around 8:30 p.m. when a maskless middle-aged white male approached him, called Yeh a racial slur and told him to "go die."
"That rattled me," he said.
Yeh said the incident was especially jarring because of the recent attacks against Asian women — after the incident, his mind jumped to what would have happened if his female relatives were in his shoes.
"If I'm being called this, if I was with my grandma, something worse could have happened, she could have gotten beaten," he said. "If that was my sister, she could have gotten beaten. These are just getting pretty scary."
Yeh added he thinks most of the violence against Asian individuals in the United States should be considered hate crimes, despite national debate over whether recent incidents, such as the Atlanta shooting, meet the definition.
"Most of them are hate crimes because these grandmas are called racial slurs," Yeh said. "They're beaten specifically because they're old. There's a pattern, it's systematic, so that's why it is a hate crime."
Nearly 3,800 incidents of anti-Asian hate incidents have been self-reported to Stop AAPI Hate Reporting Center — an organization that collects data on hate incidents against Asian American and Pacific Islander individuals in the United States — in the last year alone, a new report stated. More than 500 of them took place in 2021, as of Feb. 28.
Hate crimes against Asian Americans rose by 149% in 2020, even as overall hate crimes declined by 7%, according to a study conducted by the Center for the Study of Hate and Extremism.
Racism against the Asian community in general isn't something new to Terriers.
Ariel Cheng Kohane, a College of Communication student in the Class of 2022, is half Chinese and half Ashkenazi Jewish. Growing up, Kohane said she has been stereotyped for her identity.
She said when the "Harry Potter" book series became popular, classmates at recess would bring the story to life. When planning the game, other kids decided Kohane would play Cho Chang — one of the few visible Asian characters in the books — and she was told to "pull your eyes back."
"I remember being so angry that I shouted at her for making fun of Chinese people," Kohane said. "It still definitely has left a mark on what I remember of that person."
Kohane also recalled a non-Asian sixth-grade student saying they would only speak to Chinese individuals if "they were serving him fried rice," a comment that has stayed with her, as did a classmate's reaction: laughter.
Kaye Chin, a sophomore in the College of Arts and Sciences and vice president of external affairs for BU's Asian Student Union, said she is currently seeing racism in San Francisco. The city has distinct financial disparities she's observed in different neighborhoods, and Chin said she has seen racism directed toward her mother and grandmother because of her mother's heavy accent.
"Systemic racism has been very visible in my life," she said. "I've had a teacher tell me, 'oh, you should know this, you have a head start because you're Chinese and you're Asian' … small things like that."
Out of frustration, Chin recently made an Instagram post last week about "ways to support the Asian community" at BU. She said she wrote the message to process the recent hate crimes and provide BU students with action steps and resources.
"I think like every Asian American woman, feeling like this is a time for grieving," Chin said. "What frustrates me the most I've been thinking about is there isn't a super strong leadership in the Asian community, it's hard to find someone to look to."
Especially because ASU is "swamped," Chin said her post can serve as a guide for students, particularly those who are non-Asian.
"My friends around me are like, 'yeah, my white friends are asking me what I should do and what's going on' and it's like, they can Google things themselves," she said. "That's why I put together the guide."
The post advertised a town hall, listed demands for the University and implored the community to educate themselves instead of expecting other Asian students to teach them. The post currently has more than 950 likes.
"People want to take action, it's hard to know where to go and what organizations to donate to," Chin said. "I wanted to direct people to the right resources as well."
In order to properly address hate crimes against the Asian community now and in the future, Chin said it's important to educate people about Asian Americans' experience in this country.
"Asian American history is American history, and it's disappointing about how uneducated people are about how prevalent racism has been for the Asian community and what that looks like," she said. "How could you not call it a hate crime?"
Yeh said it's important to start teaching students about biases and diversity at a young age. He added it's important for the Asian community to speak out about their experience for "survival." After experiencing racial discrimination, he said he is working to tell his story, and encourages those who feel comfortable to do the same.
"I want to make sure that that data is collected, that my voice is heard," he said. "It's important to listen and also spread the other people's story to make sure that everybody in the Asian community stays safe and stays vigilant against this racism."