Everyone has a personal story of struggle and self-transformation. But, few muster the courage to share their story.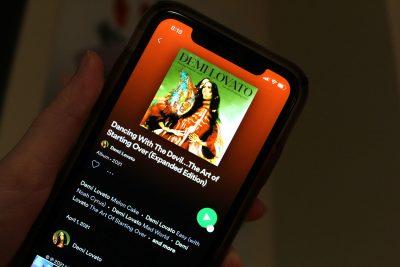 Twenty-eight-year-old singer and actress Demi Lovato shares hers with the world through her latest album "Dancing With The Devil…The Art of Starting Over." The Friday release coincided with her new YouTube docuseries "Demi Lovato: Dancing with the Devil," the first episode of which aired March 23.
During a Clubhouse livestream, Lovato said this album is like the "non-official soundtrack" to the documentary because it also chronicles critical experiences from her life.
Lovato achieved immense success at an early age, but her tale is not one of sunshine and roses. Her path to pop stardom was colored by various traumas: an unstable childhood home, unresolved sexual assaults, eating disorders, drug addictions and mental health battles, along with the pressures of fame.
After a failed attempt at sobriety, Lovato experienced a severe drug overdose in 2018 that resulted in multiple strokes, a heart attack, brain damage and temporary blindness — challenges she still continues to cope with. She reenacted this scene for the album's title track "Dancing With The Devil" music video.
The 19-track album consists of uplifting pop and R&B with serious reflections about the past mixed in — all of which are deeply personal and redemptive for Lovato and soul-striking for the audience.
"Anyone" — a song recorded four days before her overdose three years ago — opens the album. In the emotionally cathartic lyrics, she repeatedly questions why she is praying "if nobody's listening" and asks God to "send me anyone."
In "The Way You Don't Look At Me," Lovato opens up about her struggles with body image and self-esteem as well as fear of others' criticism.
Despite its cheerful beats and unoffending title, "Melon Cake" deals with eating disorders and Lovato's struggle to maintain autonomy in her own life as a celebrity. In the song, she reveals that her management team replaced her birthday cake with a watermelon and fat-free whipped cream. She sings that she was "livin' as a prisoner inside my own mind" and expresses her joy and relief at "finally get[ting] to do things my way."
While the first half of the album tackles serious themes, the second half focuses on her recovery and hopefulness for the future.
"My Girlfriends Are My Boyfriend" is a free-spirited track about female friendships and care-free fun, made in collaboration with Saweetie. Celebrating her "team full of queens, bad, bougie and royal," this song is bound to spark smiles and happy memories.
Lovato ends the album on a high note with "Good Place," an acoustic track where she reminisces about a life where she "chose drugs over love, money over trust" and acknowledges that "a whole lot of work" has helped her reach a "good place" today.
"Dancing With The Devil…The Art of Starting Over" showcases a diverse set of music reflective of the highs and lows of Lovato's life — it's her simultaneous acknowledgement of her past traumas and an optimistic look toward the future.
Similar to Taylor Swift's re-recordings of her 2008 album "Fearless," Lovato's latest work is an act of establishing ownership of one's identity in the music industry.
What makes this album special is Lovato's vulnerability as she deconstructs her emotionally jarring yet inspiring story. Such openness is rare in a commercial society that prides itself on material worth and external facades.
Lovato's raw honesty will hopefully set a precedent and help dissolve the music industry's superficiality, improving the culture for her fellow pop stars while reassuring and empowering her listeners.