Feeling down lately? Well, I can't say this Netflix original will make things any better. "My Octopus Teacher" follows the story of a magnificent creature … and the egotistical man who won't leave her the hell alone.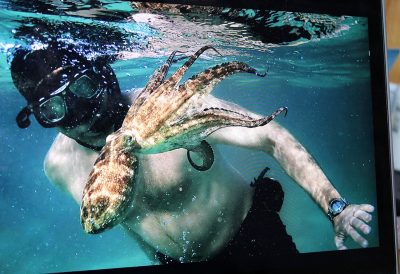 This documentary is meant to inspire hope, or at least I think it is. As a tale of man and nature, interspecies bonds and the miraculous intelligence of the octopus as a product of evolution, this film is meant to leave the viewer filled with wonder. Instead, I left quite disgusted.
The film's main — human — character, Craig Foster, is to blame. Foster is an interesting guy, sure, but not really in a good way. Triggered by a midlife crisis that apparently left him unable to be a good father, Foster turns to the ocean, spending hours each day for a year visiting his aquatic mistress.
I say "mistress" because Foster's sense of obsession and the way he talks about this creature's body almost resembles pornography. For more than an hour, we hear so much from Foster about this damn octopus and next to nothing about the family he left at home — I forgot he even had one until the very end.
The film is very interested in what Foster spent his time doing in the kelp forest but never asks what his wife was doing during all this, how she felt being left with the children while her husband spent his time "befriending" an octopus.
Whatever sort of relationship Foster has to this octopus, it doesn't prove to be a strong one. After we are made to fall in love with this beautiful creature, we see it nearly destroyed by a shark attack. Foster films the whole thing, engrossed by this mutilation of his "friend."
The sharks are small, by the way, like the kind you pet at the aquarium. Foster claims he doesn't move to protect her because he would be "interfering with the whole process of the forest." As if coaxing this octopus out of its hole every single day for months on end isn't a form of interference. All in all, I can't say that this film left me feeling better about man or nature. I'd skip this one unless you're looking to be enraged by something. Perhaps make a visit to an aquarium with well-fed and not eaten inhabitants instead.