The Boston University softball team swept the Bucknell University Bison in a doubleheader Sunday, with both games concluding in a 3-2 Terrier victory. BU now boasts a 24-2 season record.
The Terriers also defeated the Bison Saturday in another back-to-back series — both matches ended in a score of 2-1.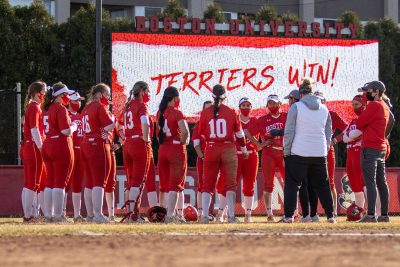 While the Terriers won all four games this weekend, head coach Ashley Waters said she wished the team had performed differently.
"I wish we had played a little bit better," Waters said in a post-game conference Sunday. "We need to go back to the drawing board this week. I think baserunning was pretty weak, it took us out of some innings. I thought some of our at-bats were pretty weak."
In the third inning of game one Sunday, the Terriers struck first, putting two runs on the board. Freshman catcher Lauren Nett was able to hit a double to bring senior utility player Marina Sylvestri home. Junior outfielder Emily Gant hit an RBI up the middle to bring Nett in.
"I told myself to be patient and get a good pitch," Gant said in Sunday's conference. "Just to see it go up the middle, I knew immediately that I was going to have a run score and I was just really happy."
In the sixth inning, junior infielder Bella Gargicevich-Almeida's single was enough to bring freshman infielder Alex-Rose Molinar in for the Terriers' third run of the game.
The Bison were able to score two runs during the seventh inning, with senior catcher Taylor Wolfgang's single, which brought sophomore utility player Chase Knapp in to score. Freshman designated player Zoie Smith hit an RBI fielder's choice to bring junior infielder Nicole Rivait home.
Senior pitcher Ali DuBois pitched the first game, striking out eight of the 34 batters faced, compared to the two strikeouts of 32 batters collectively faced by Bison pitchers sophomore Olivia Marinelli and junior Kelly Toomey.
Although the Terriers were heading into the second game with a win, the team did not lose focus, Waters said.
"Obviously winning that first game, not that it takes pressure off, because we want to continue to compete, but I think for us at least we know we're going home with three wins and we had to do our part to finish the job," Waters said. "I do feel like there was a little bit more of a deep breath after we won that first game, and then it was back to focus 20 minutes later for the next one."
In the third inning of the second game, the Terriers were the first on the board again after freshman outfielder Lauren Keleher hit an RBI single to allow junior infielder Nicole Amodio to advance to home and score.
During the fifth inning, Sylvestri hit a double out to center field, bringing both sophomore catcher Audrey Sellers and freshman infielder Kate Pryor home and raising the lead to 3-0.
The Bison started to creep back with two runs in the sixth, after Rivait hit a homerun over the left field fence, sending Knapp to home plate as well. Rivait's homerun left the Terriers with just a one-run lead going into the seventh.
"It's a pressure situation, and you have to sit there and work through it anyways," Gant said after pitching for the Terriers in game two. "It's nice to have my teammates behind me to support me."
Gant was able to strike out the last batter, clinching the win for the Terriers. After facing 29 batters, Gant struck out nine in 142 pitches. Pitching for the Bison, sophomore pitcher Kaiya Burton struck out two of 32 batters faced.
"Our pitchers held it down," Waters said. "They were put in pressure situations based on mistakes or errors and we've got to own that a little bit more."
Waters said the team is young, and with the shortened preseason and regular season there are some flaws that need to be addressed.
"Half our team is sophomores or freshmen, so when you look at that, you understand there's going to be a learning curve and there's going to be mistakes," Waters said. "Usually, we have a longer preseason to work the kinks out and I feel like for us, it's been such a shortened season that we're still trying to figure things out and navigate through it."
While the Terriers have only two losses so far this season, Waters said she still sees room for improvement throughout the team.
"We play hard, and we know how to compete, it's just the mistakes," Waters said. "[The team is] a tough group and they're resilient, so good, bad, ugly, we're in it to win, and we're doing our best. But we definitely have to make some improvements."
Next weekend's doubleheaders will be against the College of the Holy Cross in Worcester, Massachusetts Saturday and Boston Sunday. The Terriers will play Lafayette University May 1 and 2 to close out the regular season.