As we look toward Earth Day, I think it's just as important to take some time to appreciate this planet as it is to consider how we can protect it. For those of you living in or around Boston, here are some ecological miracles to check out in the coming months.
Kancamagus Highway — White Mountains, New Hampshire
This 34.5-mile stretch of highway is full of scenic spots to stop at and even swim in. The highway runs right next to the Swift River's shallow rapids that you can sit and slide over — like a natural water slide.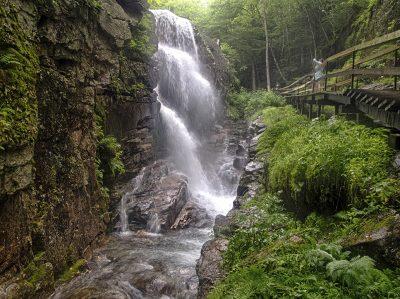 Flume Gorge — Lincoln, New Hampshire
Also nestled within New Hampshire's White Mountains, the Flume is part of the gorgeous Franconia Notch State Park, full of hiking trails that take you right through the gorge. You can walk under waterfalls and above beautiful glacial pools, making this spot worth the small admission fee
Hammonasset Beach State Park — Madison, Connecticut
Visit this stretch on the Long Island Sound for lots of opportunities for outdoor entertainment. Hammonasset Beach is home to a beautiful campground, an expansive boardwalk, multiple birdwatching spots and a nature center to visit.
Cliff Walk — Newport, Rhode Island
With unobscured views of historic mansions on one side and the rocky Atlantic coastline on the other, this three-and-a-half-mile trail is worth walking through.
Plum Island — Newburyport, Massachusetts
This spot is the first on the list that I haven't personally visited, but I plan to this coming summer. Plum Island is a coveted destination for birdwatchers everywhere, who flock to see the island's many native species firsthand. Plus, the island is accessible by bridge: no need to catch any ferry.
Quechee State Park — White River Junction, Vermont
Quechee Gorge is another facet of New England's ecology worth seeing in person. With easily navigable hiking trails and shallow river zones safe for wading, this would definitely make a good day trip for anyone in the Vermont area.
Mohegan Bluffs — Block Island, Rhode Island
As long as you don't get seasick, Block Island's Mohegan Bluffs are another natural marvel to feast your eyes on. Accessible by ferry, the island is a great spot for biking and sightseeing. Plenty of visitors also take advantage of the island's many beautiful sights by renting mopeds for the day and traveling the length of the island.
With just a few weeks left in the semester before the relaxing pause of summer, now is the time to start planning adventures within a college student's budget. Luckily, the New England region is full of beautiful places to explore. Hopefully, this list is an encouraging start to a season spent happily out in nature.