Education, public housing and police reform were all on the table at a Tuesday night forum, as candidates in Boston's 2021 mayoral race offered differing approaches to the topics.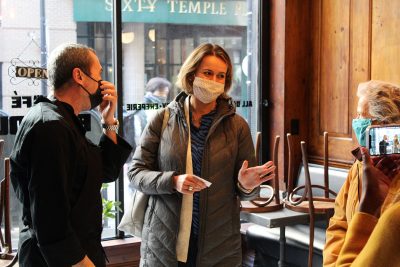 The virtual event featured five out of the six major declared candidates — the first time they gathered publicly to debate — who faced questions moderated by GBH Radio and TV commentator Callie Crossley.
Each campaigner explained their previous experience and voiced potential plans to best address city issues. Current city councilor and mayoral candidate Andrea Campbell shared her plans to form an initiative that would automatically release data on stop-and-frisks and other activities within the Boston Police Department.
"I didn't need George Floyd's murder, the recent Patrick Rose case or other cases coming out of our department to know that the Boston Police Department has significant work to do," Campbell said. "The Office of Police Accountability [and Transparency], I drafted that legislation, worked with the mayor to get it done, my plan is to continue with respect to these issues." 
Also serving as a city councilor and candidate for mayor, Annissa Essaibi-George gave her thoughts on education reform. 
"I think that it's really important that we don't involve politics any more than it already is," Essaibi-George said.
Under current rules, chairpersons on the Boston School Committee must be appointed by the mayor. When asked if chairpeople should be elected rather than appointed, Essaibi-George stood alone in her position that "appointments should be done in partnership between the Mayor's Office and the City Council."
State Rep. Jon Santiago, D-Mass., also a candidate for mayor, gave his thoughts on expanding affordable housing in Boston, saying "housing equals health." Santiago pointed to the city's AAA bond rating as an opportunity.
"I'm going to leverage that bond rating to issue municipal loans," Santiago said, "to make sure that renters and [Community Development Corporations]s have the equity they need to develop affordable housing." 
An April poll conducted by MassINC Polling Group indicated the road ahead for candidates on the ticket. Maeve Duggan, research director at MassINC Polling, said a major takeaway is the significant number of undecided voters: 46%. 
For Duggan, that's an indication of the race's volatility.
"There's a lot of movement that we may yet see before September," Duggan said. 
Though few of Boston's mayoral races have been conducted during a pandemic, Duggan compared the candidates' experiences on the campaign trail to those of their predecessors. 
"This mayoral race isn't unique in the number of candidates," Duggan said. "Boston's elections have often had a lot of candidates running. What is somewhat unique is Janey having the opportunity to be the incumbent."
After Mayor Walsh was tapped to serve as the Secretary of Labor for President Joe Biden's Administration, Boston City Council President Kim Janey automatically assumed the role as stated in the city charter. This made her the first woman and first person of color to serve as mayor of Boston. 
For researchers like Duggan, tracking the months ahead means tracking the candidates' financial positions.
"I would keep an eye on fundraising, both in terms of month to month, and who has overall the biggest war chest," Duggan said. "Always follow the money."
With the mayoral primaries set for Sept. 21, the candidates have less than five months to claim the Democratic Party nomination and advance to municipal elections.
"To cross that finish line, candidates certainly need to have their name first known, and second, be an appealing choice," Duggan said.