The Boston University softball team defeated the College of the Holy Cross in a doubleheader Friday. Game one had a score of 11-3, while game two ended in a 7-0 shutout for the Terriers.
After another doubleheader victory Saturday, the team has now extended its win streak to 10 games and has an overall record of 28-2 this season.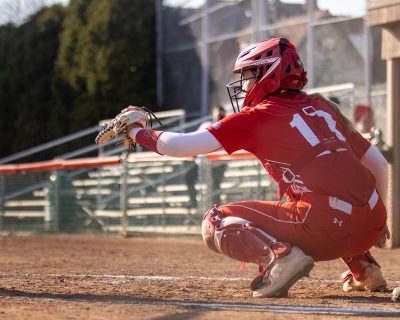 The Terriers swept Bucknell University — the team directly behind BU in the Patriot League standings — April 17 and 18. Despite the victories, Terriers head coach Ashley Waters said the team still has areas to improve on.
"I do believe that never being satisfied gives you a chance to continue to work on things, so we went back to the drawing board," Waters said in a press conference Friday. "They had their work cut out for them this week and I think they got to a better place offensively for sure."
The Terriers started off Friday with a lead in the first game after senior utility player Marina Sylvestri hit a sacrifice-fly, allowing sophomore infielder Caitlin Coker to come in for a run.
In the fourth inning, senior outfielder Jen Horita hit an RBI single up the middle, bringing in freshman catcher Lauren Nett for the Terriers. Junior infielder Nicole Amodio later hit an RBI single to allow Horita to score.
The Crusaders answered in the sixth on the back of junior catcher Erin Bengston's three-run homerun, bringing in junior infielder Jessie Nagel and sophomore infielder Bailey Bates and tying the game 3-3.
"My biggest take away from game one was the fact that if you let a team hang around, one swing can change it," Waters said. "I was impressed with the resiliency in that next inning, coming back and being able to score … but, to me, it's just turn that on earlier."
The Terriers answered quickly in the sixth with freshman infielder Alex-Rose Molinar's 2-RBI double that brought in both Horita and junior outfielder Aliyah Huerta-Leipner. Amodio followed up with a double to left center, scoring Molinar.
With the bases loaded, Sylvestri and sophomore catcher Audrey Sellers earned back-to-back RBI walks, allowing Amodio and senior infielder Patricia Dun to come home.
Also in the sixth, Huerta-Leipner hit a sacrifice-fly to left center, scoring freshman outfielder Lauren Keleher. Horita singled to the left, bringing junior outfielder Emily Gant home, and Molinar brought Sellers in for the eighth run of the inning and 11th run of the game. The high-scoring inning evoked the eight-run rule and concluded game one.
Senior Ali DuBois pitched the entire first game for the Terriers, throwing seven strikeouts to 26 batters faced. Pitching for the Crusaders, junior Kelly Nelson and sophomore Audrey Gusel had a combined three strikeouts and eight earned runs across 34 batters faced.
In game two, Sylvestri started the Terriers off in the first inning with an RBI single to right field, which plated Gant and Coker on the throw. Huerta-Leipner singled to left field, which allowed Sylvestri to come home for another run.
Molinar was able to score on a throwing error by the Crusaders in the fourth inning, running the lead to four.
The sixth inning brought in three runs for the Terriers. Coker's single brought in Amodio, and Sylvestri's sacrifice bunt then allowed Coker to score. Junior pitcher Julia Handfield hit into a fielder's choice, bringing in Gant for the final run of the game.
Pitching the second game for the Terriers, Gant threw 114 pitches, striking out 11 of the 26 batters faced. Crusaders freshman Megan Yurchick struck out four of 33.
Waters spoke on Gant's recovery from an injury post game.
"Sunday at Bucknell and then obviously today, you're starting to see Emily Gant, she's starting to feel good, she's starting to execute," Waters said. "She's a two-way player and a player that we need, so she's toughing it out right now. We certainly need her and we're certainly proud of what she's doing."
The Terriers will face Lafayette College for two doubleheaders this upcoming Saturday and Sunday before the Patriot League Tournament.