Boston University softball team's dominant regular-season campaign is drawing to a close. The Terriers (28-2, 17-1 Patriot League) have been practically unbeatable across the board, with their only conference loss coming against Army West Point (8-13, 4-8 PL) earlier this month.
Following this weekend's season finale against Lafayette University (1-11, 1-7 PL), the Terriers have their sights on the 2021 Patriot League Championship, in which they have clinched the top seed.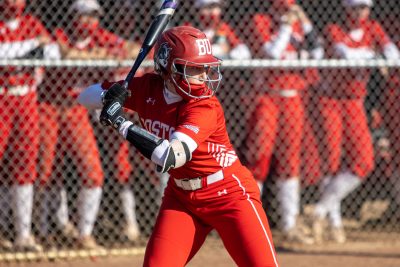 BU won the Patriot League in 2018 and 2019, but the COVID-19 pandemic spoiled the team's chance at a three-peat in 2020. Head coach Ashley Waters said the team has been motivated by the previous season's sudden end.
"They've just been really hungry to get back out on the field," Waters said in an interview. "They've been able to come out of the gate really strong and continue that momentum, knowing that every single weekend, it really could be your last weekend."
Entering the final weekend, Bucknell University (11-12, 8-8 PL), Colgate University (12-12, 10-8 PL) and Lehigh University (10-14, 8-8 PL) round out the top four in the Patriot League, with Army trailing by four conference wins.
Waters said the Terriers will focus on self-improvement rather than their opponents in the coming weeks.
"We're just going to focus on what we can control and who we are, and not so much the other team," Waters said, "and just prep ourselves to be the best hitting, fielding and pitching team we possibly can going into that weekend."
BU's offense has been productive all season, outscoring Patriot League opponents 94-31. Two of the top four conference hit leaders are Terriers — sophomore infielder Caitlin Coker and freshman outfielder Lauren Keleher — and seven of the team's qualified batters are hitting for an OPS over .800 in the season.
Still, Waters said she sees room for improvement, particularly in getting quality at-bats from the entire lineup instead of from three to four different players each game. Timely hitting and plate discipline, she said, will go a long way in the championship.
"If you get a good pitch, you have a shot to put a really great swing on it and make an outcome happen," Waters said, "but when we're swinging at balls, we're doing the defense a favor."
Fielding is another area the Terriers may focus on improving — BU has a .960 fielding percentage on the season, having made 37 errors in 30 games. That leads the Patriot League by a wide margin: Lehigh has made the second-most errors with 26.
"We've had some serious miscues that need to be cleaned up," Waters said. "The team that has the defense is going to win in the end, and we got to show up."
Pitching has been a cornerstone for the Terriers this season. Senior pitcher Ali DuBois has had a historic season, and she leads the Patriot League in multiple categories including ERA, strikeouts and wins. Currently, DuBois also has the fourth-lowest ERA across D-1 NCAA Softball. Junior pitcher Emily Gant, who holds the second-lowest ERA in the conference and is tied for third in wins, has also been a key contributor.
Waters said her pitching staff has improved throughout the season, in part because they "throw a lot" and are able to find ways to get the same players out in successive games.
"When we're playing four games a weekend, and playing the same team over and over again, you have to reinvent yourself a little bit," Waters said. "You have to figure out a way to actually execute and get some out."
Terrier pitchers have given up 10 home runs to Patriot League opponents this season, more than any other type of extra-base hit. That is not a huge concern for Waters, who said great hitters will find ways to hit the ball out of the park, and limiting traffic on the bases is a larger priority. BU pitchers have been stingy so far, with a combined 0.88 walks plus hits per inning pitched in the season.
"For us, we just want to limit the walks," Waters said. "I don't want anyone getting on base for free."
If the Terriers take the Patriot League Championship, they will advance to the NCAA Tournament, with a chance to reach the Women's College World Series. Despite having one of the highest-winning percentages in college softball, BU has yet to be ranked among the top 25 Division I teams or receive any votes. Waters said the team doesn't think about rankings and will take the playoffs one game at a time.
"The outside noise doesn't get us," Waters said. "We don't care about win streaks, we don't care about records, we simply just care about 'win that game, win that moment.'"