Resources for incoming freshman and transfer Boston University students, from Student Health Services to summer orientation, certainly are plentiful, but don't cover everything, students say.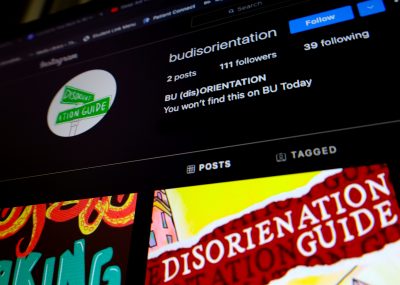 The BU Disorientation Guide focuses on what's missing.
This summer, students from multiple student organizations are coming together to help incoming terriers navigate the transition to college through the page @budisorientation on Instagram.
Mari/River Rooney, a senior in the College of Arts and Sciences and organizer of the BU Disorientation, called the guide an "underground version of orientation." The guide, they said, is geared toward transfer and incoming students and will be available digitally starting Aug. 23.
Rooney, a senior in the College of Arts and Sciences, said organizers want to focus in particular on providing information for low-income students, transfer students and students looking to get more involved with student clubs or campus activism.
"[It's] a guide to BU from students for students," Rooney said, "telling you things that you need to know that either aren't presented to you during orientation because the admin just hasn't thought about them or because they don't want you to know about them."
This initiative is a collaborative effort between various student organizations, particularly activist-oriented ones: Young Democratic Socialists, Campus Survivors, It's On Us, CAS Anti-Racist Initiative, Queer Activist Collective, BIPOC Mental Health Collective, Divest BU, among others.
Rooney said the guide will have "very digestible pieces of written information along with visuals" and highlight ongoing issues surrounding climate, sexual assault and LGBTQ+ rights at BU and provide information about activist campaigns and advice for students, which they said was very important to the founders.
"There's a lot of stuff that you end up finding out at the end that you wish you'd known at the beginning and that could have … had a really big impact," they said. "There's a lot of stuff I know now, there's a lot of stuff that I know my friends know and we want to share that with new students, so that way they can have the best experience at BU."
Stemming from returning students' experiences, this advice will cater to a variety of student needs. Rooney said the guide will feature tips on how to navigate Boston as a low-income student, safe places for gender non-conforming students and dining hall options for vegetarians.
"We pay a lot of money for BU," they said. "It's very hard to get what we pay for so we're trying to show people here this is how you might be able to benefit after you just spent … a large fortune on a university."
Mikey DeDona, another organizer and a senior in CAS, said that he hopes the guide will help "recognizing the relationship between the student body and the administration in terms of power on campus."
"A lot of students, [such as] students of color or queer students, still slip through the cracks and don't have resources for how to exist as like a queer student on campus," ​​DeDona said."The idea is for students from those groups to contribute and hopefully help upcoming students figure out how they can exist comfortably and survive at BU."
This guide is not the first of its kind. In 2010, students released Volume I Issue I of the BU DISorientation Guide, which covered campus history, student life, administrative policies, health and environmental advice and activist resources. Other colleges have launched similar initiatives.
"The truth is that we'll probably miss stuff. This is, it's a wide net to cast," DeDona said. "But the hope is that this is a continuous project … I think that sharing it with people will enable us to patch these holes in the web of coverage we've created, and hopefully that future editions can cover all those bases that we may have missed this time around.
This guide is a critical "foundational step" toward raising students' awareness about student life, available resources and the various issues on campus, DeDona said.
"We'll hopefully build up an opposition to the administration in such a way that we can demand a seat at the table so to speak and bring ourselves closer to a legitimate power dynamic in which student voices are heard," DeDona said.
The guide will be available on Instagram beginning Aug. 23. DeDona said the project is still accepting submissions throughout the semester as the guide begins to "exist and breathe and grow."
Alexia Nizhny, the grants and awards chair of Back Bay Publishing Company, is involved in the layout and editing of BU Disorientation Guide. She was not involved in the editing of this article.
Vanessa Bartlett, a past campus associate editor of The Daily Free Press, is a core organizer of BU Disorientation Guide. She was not involved in the editing of this article.