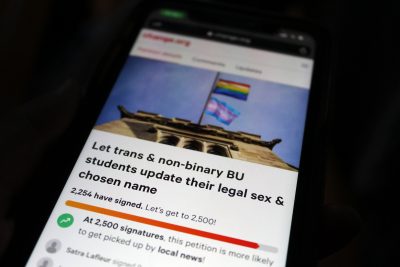 Recent Reddit and Instagram posts by Boston University students have highlighted the shortcomings in the Gender-Affirming Healthcare program at Student Health Services and the inability for transgender and nonbinary students to change their legal sex on BU records.
Officially launched in Spring 2020, the program consists of 10 healthcare providers who can be identified by small rainbows at the end of their staff directory bio, Judy Platt, the director of SHS, said. 
Platt said SHS began looking into creating a specialized program in 2019 after realizing that while there were SHS providers fulfilling aspects of gender-affirming healthcare, no comprehensive program existed. 
The services offered include primary care, urgent care, hormone therapy, mental health services — including short-term counseling and group counseling — referrals for gender-affirming surgery and referrals to other gender-affirming healthcare providers in the Boston area.
However, students who have received care through the program since it began have expressed issues with it, such as providers misgendering students, using the wrong name or prescribing an incorrect dosage for hormone therapy. 
A transgender male student who asked to remain anonymous, said he began hormone therapy with SHS in October of 2020. While under the care of the program, he said he noticed huge changes to his behavior, moods and health after switching from the injection to gel form of the medication.
"I noticed within a few weeks of starting it [I was getting] really bad headaches, really sweaty all the time, just a lot of things very off," the student said. "Also, I'm a pretty level-headed person and I started getting really angry for no reason, like I had no control over it."
After going to the emergency room with the symptoms, the student contacted his SHS provider on Patient Connect about the side effects. Bloodwork was then conducted and came back with "way too high" levels of the hormone, he said.
"She [the provider] said she didn't really know why and [that] we're going to monitor it and that was the end of that, there's no further discussion or anything," the student said. "It eventually got to the point where I felt like I literally couldn't even go to class, I felt so physically horrible."
The student's health declined to the point that he ultimately asked to stop taking the hormones.
"That was a really big decision," he said. "It was a really exciting thing for me to be able to start and a very monumental moment, and then I was like, it's not worth it anymore for me."
Soon after, the student learned the dose of hormones he had been on was "unreasonably high" when the provider called and apologized for the mistake, but the student by then preferred switching to Fenway Health, which focuses on healthcare for underserved communities in Boston such as queer and BIPOC communities.
However, the student noted that SHS has been responsive to feedback and that there have been departments that have been "incredibly helpful" after the fact.
The student said he hopes SHS refers patients seeking gender-affirming healthcare to Fenway Health or Planned Parenthood in the future to reduce the potential of harm to students. 
"I think SHS is really unqualified to say they can provide gender-affirming healthcare," the student said, "because it is a very specific area of healthcare and I think for them to try and do that has the right intent but ended up causing way too much harm."
Alex P., a nonbinary student, went to SHS for a referral for gender-affirming surgery in the summer of 2020. They noted the Zoom session was not conducted in a "private environment," and that the provider seemed unfamiliar with the process.   
"Her family could be seen walking around in the background and she had me on speaker," Alex said, "and she wasn't respectful of my pronouns or my gender identity and kept questioning it."
Later on in the Fall, Alex returned to SHS for hormone therapy and saw the same provider who they said asked "invasive questions." 
"She kept asking me if I had discussed whether or not I wanted to have kids with my partner in the future and whether or not I had talked to them about this before I quote-unquote 'did this to my body,'" Alex said.
Alex said the provider repeatedly tried to convince them to freeze their eggs or undergo fertility preservation before starting hormone therapy.
"It seemed like she was trying to convince me to not undergo hormone therapy," Alex said.   
Alex noted the only "reasonable" action the University can take is to suspend the program until they can hire more "competent providers" and provide more transparency.
In an email, Platt wrote the healthcare providers in the program attended a two-day course led by Fenway Health called Advancing Excellence in Transgender Health, with some additional training depending on the service the member was responsible for providing.
Platt also mentioned that every one to two years the entire SHS staff undergoes bias training, and providers in the Gender-Affirming program were given a lecture on the topic by Fenway Health.
Platt wrote she hopes to make the Gender-Affirming Healthcare Program a welcoming place for students to come for their care.
"My hope is that any student will want to come to Student Health Services when they are in need of healthcare services and that if we can make this easier and more seamless for our students who are looking for gender-affirming healthcare services that would be wonderful," Platt said. 
Platt added she hopes students will also feel comfortable providing feedback to SHS, which she said is "really critical" for change.
Alex eventually went to Planned Parenthood in Boston to continue their hormone therapy and said it was a "completely different experience from SHS."
"They were respectful of my pronouns, my gender, they didn't ask questions," Alex said. "It made me appreciate the care that I got there, even though respectful care for trans people is really the bare minimum."
For part 2 on trans and nonbinary students' difficulty changing legal sex at BU, please see here.