In a rare matchup with the University of Iowa, Boston University field hockey was shut out, 4-0, Sunday afternoon in Boston. Facing off for the first time in more than 10 years, the Terriers (2-2) dropped to 1-9 all-time versus the Hawkeyes (4-0).
Iowa entered this season ranked as the No. 3 Division 1 field hockey team and was the highest-ranked visiting team at New Balance Field since 2017, when Duke (then No. 2) faced the Terriers at home. Head coach Sally Starr said although "the score got away from us," the team put up a strong effort Sunday.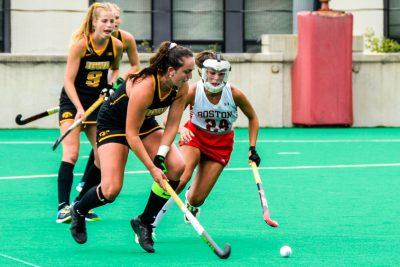 "Terriers don't back down to the big dogs," Starr said. "We just really came with a mindset that we had the opportunity to do something special today. We'll just grow and learn from this."
The Terriers held their own against the Hawkeyes but ultimately were not able to build momentum, scattering three shots throughout the game. Graduate student forward Miya Denison fired BU's first shot in the first minute of the game, but Iowa senior goalkeeper Grace McGuire knocked it down for a save. BU did not make another shot until the third period.
Iowa had a large shot advantage, collecting 19 in total. Four different Hawkeye players scored, but the Terriers managed to cool down fifth-year forward and midfielder Maddy Murphy, the reigning Big Ten Offensive Player of the Week. Hot off three straight games with at least one goal or assist, Murphy managed neither on five shots Sunday.
Junior Caroline Kelly started in the cage for BU and kept the game close in the first half, her only blemish being a goal off a corner by Hawkeye senior midfielder and fullback Lokke Stribos. Kelly and sophomore Kate Thomason combined for 10 saves. Kelly earned six of them, including a stellar diving effort in the 23rd minute.
"Caroline Kelly was outstanding, for sure," Starr said. "I've got to look at the goals that were scored … I'm not really sure what happened on those goals. Probably a combination of everything, for sure, giving them too many opportunities."
Corners played a big role in Sunday's game. Iowa drew eight and was able to capitalize on the chances — two of the Hawkeyes' four goals came on corners. Starr said the team will reflect on that aspect of the game.
"We got to look at how they earned the corners," Starr said. "Did they really earn it, or did we do something sloppy?"
BU, on the other hand, earned just one corner, which came in the 41st minute. Senior midfielder Rebecca Janes made a clean pass to junior forward Ellie McIntyre, who fired the ball at the goal. The shot deflected off the left post, leaving BU scoreless. 
"It's a game of swinging momentum," Starr said, "and I just think that we rode the waves pretty well."
The Terriers look to get back to their winning ways at home against the University of Massachusetts Lowell Friday at 6 p.m. before entering a stretch of road play, starting with a 1 p.m. match against rival Boston College on Sept. 12.