The transition from living at home to living in a dorm is tough. You're living on your own for the first time and trying to figure out what college life means for you. The days and nights are jam-packed with classes, meeting new friends and exploring the campus. 
After a long and overwhelming day, it's important to give a moment to yourself back in the dorms — a chance to unwind and recharge for whatever is coming next. 
But it can be difficult to feel at ease with a messy or undecorated dorm. One of the things that helped me the most during my first semester on campus was creating a space as homey as possible. Here are some tips for making your dorm feel a little more like home.  
1. Start with your bedding. It may be tempting to run to Amazon and choose the cheapest sheets and comforter options available, but spending that extra few dollars will go a long way in the future. Color coordinate the bedding and even add in a throw blanket from home to give yourself a piece of home. 
2. As a freshman, you are usually placed with a roommate in a traditional dorm and a communal bathroom. It is important to stay organized in the small space that you are given. Utilize the space underneath your bed with storage bins — it's a good space for shoes, sweatshirts or anything that can be easily folded. And it's important to give all of your belongings a home: You don't want to be running around for that one sweatshirt you're dying to wear later on in the semester.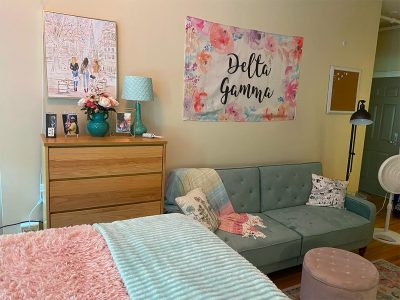 3. Decorations are always a must. I hate to burst any new student's bubble, but a college dorm can resemble a prison cell at times. It is key to fill those white walls with photos, posters, artwork or anything that brightens up the room. You can even add in a fun desk lamp and a funky rug to really give it some life.
4. Invest in a small bathroom caddy. The days of having your own space in your family bathroom are gone: As I mentioned before, dorm living usually involves sharing a bathroom with most of the people on your floor. But make sure to keep the caddy you bring to and from the bathroom to the essentials only. That lotion that you might use once a year should not make the cut. 
5. Keep your snacks to a minimum. Old stale food will stink up your room and create a stench that will not make you a popular roommate. Keep your fridge empty for leftovers and the freezer ready for essentials — and hopefully, a few cookies sent from home. 
6. Lastly, make sure to keep your space clean. Make your bed in the morning and tidy up the dirty clothes on the ground. Nothing is better than coming back to your dorm after a long day to a clean space. Periodically send pictures back home of your clean room for extra brownie points. 
Living on your own for the first time can be daunting. Homesickness will come at you fast and it is important to have a space on campus where you feel comfortable. Come spring semester, you will be happy to have a piece of home to return to on campus.