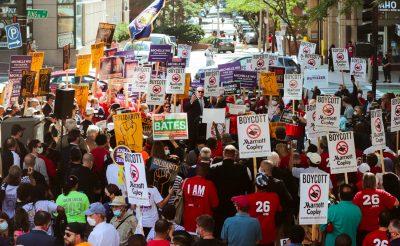 Union workers and supporters rallied outside of the Boston Marriott Copley Place Monday for the reinstatement of the hotel's former staff.
The Greater Boston Labor Council hosted the rally in support of the 230 workers who were fired by the Marriott Copley last September due to the COVID-19 pandemic. UNITE HERE Local 26, a labor union that represents Massachusetts hospitality workers, joined the rally in support and called for a boycott of staying and working at the hotel. 
The Copley Marriott could not be reached for comment in time for publication. 
Speeches were given by union leaders, workers, elected officials and candidates for the Boston mayoral race, including Rep. Ayanna Pressley (MA-07), Sen. Elizabeth Warren, Sen. Ed Markey, Mayor Kim Janey, Councilor Michelle Wu, Councilor Andrea Campbell, Councilor Annissa Essaibi George and former city economic development chief John Barros.
"Today is our day, a day to celebrate the power of workers and the power of the working class," Darlene Lombos, executive secretary treasurer of the GBLC, said. "Labor Day is a celebration that we the labor movement created through our wildcat strikes, through our militant actions and through our fierce commitment to solidarity, solidarity that is built and nurtured among unions and across industries."
Lombos and the following speakers spoke in favor of unions for all types of jobs, from hospitality to healthcare to education. 
"Over the past year, our essential workers prioritized our health and needs before their own," Lombos said. "As we move toward recovery, it is imperative that we put the frontline first."
Carlos Aramayo, President of Boston's UNITE HERE Local 26, referenced in a speech at the rally a projection that about 90% of hospitality workers lost their jobs during the pandemic. 
"We need an equitable and fair recovery," said Aramayo at the event. "Hotel owners, like Host [Hotels and Resorts] who own the Marriott Copley, they don't agree with it. They're greedy. They want to cut our jobs. They want to cut services from the public … they want to eliminate the bellmen and people who answer the phone in hotels. Is that an equitable recovery?"
Beatriz Torres worked at the Marriott Copley as a concierge for 23 years before getting fired last September. She now works at another job for half the salary she made before.
"I [gave the Marriott Copley] hard work, dedication and loyalty. In return, I was fired in the middle of a pandemic," Torres said in a speech. "Do the right thing by us and by the citizens of Massachusetts." 
Pressley told a story of her six years working at the Marriott before becoming a member of Congress.
"I know what it is to be a part of an invisible workforce. I know what it is when your labor is barely valued when your life certainly is not," Pressley said. "We have an unprecedented opportunity and a responsibility to organize, to mobilize and to legislate better conditions and protections for all workers."
Warren spoke of her support of the PRO Act: a piece of congressional legislation to further protect the labor workforce and their right to organize in a union.
"It is time to fight for the chance to organize all of our workers," Warren said. "Today we fight corporate greed. We fight to strengthen the labor movement. We fight to build an economy that works for everyone. Unions built America's middle class and unions will rebuild America."
The rally moved to the front of the Marriott Copley and then to Copley Square, where attendees chanted "don't check in, check out" in support of the boycott against the hotel.
Ian Seale, an employee at the Boston Park Plaza, came to the rally in support of the fired workers of the Marriott Copley.
"They are actually one of us, they are doing the same job that we do," Seale said in an interview. 
Seale said the ongoing pandemic and new variants make hospitality work unstable.
"We don't know what to do about it, we don't know how to work with it because they expect travel to Boston and when there's no travel to Boston, then we're out of a job," Seale said.
In an interview, Janey spoke in support of UNITE HERE Local 26 and their fight against the Marriott Copley and the Nine Zero Hotel, another hotel that did not reinstate their employees, as well as the prevailing wages she signed as mayor.
"We know that the labor movement is largely responsible for giving us weekends and an eight-hour workday," Janey said, "as well as ensuring that rights are being protected and helping to build the path toward the middle class."