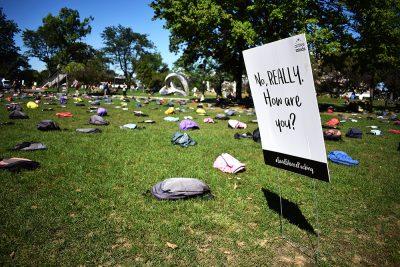 Content warning: The following article discusses suicide.
After a year of upheaval and distress, research has shown college-age students increasingly struggle with mental health symptoms and conditions such as depression and anxiety. Sept. 5 through Sept. 11 is National Suicide Prevention Week, which aims to educate the public on suicide prevention and decrease the stigma around the topic.
Anonymous suicide prevention service Samaritans Inc. CEO Kathy Marchi said the isolation and abrupt life changes the pandemic has brought on have greatly increased the struggles that students with anxiety or depression encounter daily. 
Marchi said that people facing emotional difficulties or people who simply need someone to talk to can reach Samaritans at any time or call or text their support number 877-870-4673. 
"You might see someone who's feeling very overwhelmed or hopeless or very emotional," Marchi said. "Those might be things that you would see in someone, and that's where we want to take action." 
Kelley Cunningham, the Director of the Massachusetts Department of Public Health's Suicide Prevention Program, wrote in an email that COVID-19 has left a "profound effect" on college students as this past year of remote learning and unfinished schooling was characterized by uncertainty. 
"Anyone struggling with suicidal ideation (on-campus AND off-campus) should reach out for help," Cunningham wrote. "No one should ever feel the need to carry this on their own."
Osiris Rankin, a Harvard University graduate student at the Nock Lab for research on the nature of suicidal behavior, said suicidal thinking increased with adults at the beginning of the pandemic, according to an Association for Psychological Science study.
However, an increase in suicidal thinking does not necessarily mean an increase in suicides during the past year or currently, Rankin said. He added that he believes deaths can be prevented by mental health treatment and healing from trauma. 
"If you have a recovery kind of perspective on [suicide], you can have the view that, of course, you can no longer have the thoughts or your thoughts on those thoughts can change," Rankin said.
Students grappling with suicidal thoughts should talk with their friends, reach out to their college's counseling resources for support and let their loved ones know they are struggling, Cunningham said. 
"Many campuses have been doing tremendous work in supporting students especially now more than ever before," Cunningham wrote. "The problem is many don't know support exists or are afraid to ask for help." 
For universities that wish to help their students, Rankin said trust must be established between both the school and its students, and that students should not be punished for reaching out for support, or escorted by police with firearms if the student reports suicidal ideation. 
Students often put off reaching out for mental health support until certain academic deadlines, Rankin said. However, he said that delay can do more harm than good but is never too late to receive help. 
"If somebody knows somebody who's died by suicide, they could also use support," he said. "If anybody's returning from a hospitalization, they can especially use support."
Rankin also said it is helpful for students or others to have a plan for when they are in crisis to cope with the predicted ideation to help them through the event, whether it's through talking with trusted loved ones or texting a mental health professional. 
"It's never bad to just ask people, 'Are you okay?'" Rankin said. 
While being there for a person with mental health struggles can be helpful, acting as their therapist to replace actual professional help is neither a friend's responsibility or job, Rankin said. It is up to the person struggling to ask for help. 
"Being honest and genuine and being a good friend can make a huge difference," he said. "It's not always enough, but it's an appropriate role." 
Cunningham wrote that acknowledging a person's pain or hardship can help them in their journey to seeking emotional support. 
"If you are concerned about a friend, don't be afraid to ask them directly if they are having a tough time," Cunningham wrote. "Knowing someone has noticed their struggle and the willingness to ask if they need help can and will provide someone the step they need to get the help they need."
Anyone having life-ending thoughts can call the National Suicide Prevention Hotline at 1-800-273-8255.