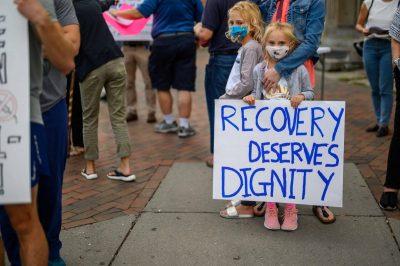 UPDATED Sept. 9 to include a new statement from the Mayor's office
The intersection of Massachusetts Avenue and Melnea Cass Boulevard has become the center of the opioid epidemic in Boston, and it continues to become a dire public health emergency, activists say. 
While September is recognized as National Recovery Month, changes around the Mass/Cass area, such as the permanent closure of the "comfort station"—a center for populations abusing substances and/or experiencing homeless to find toilets, handwashing and tents— continue to spark debates over how the area should be made safer for the community at large, especially those in recovery.
According to an email from a spokesperson for Mayor Kim Janey, "security concerns" led to the closing of the comfort station. They also wrote that the Engagement Center on Atkinson Street is a day shelter providing access to substance use treatment and medical care that those struggling with addiction can use seven days a week.
"We are taking actions to improve both public health and public safety in the neighborhood hardest hit by the opioid crisis," the spokesperson wrote. 
The spokesperson added that City outreach teams are also actively working to help people access treatment.
"In this National Recovery Month and every month, we are committed to acting with urgency and keeping public health at the center of our coordinated efforts," the spokesperson wrote.
Yahaira Lopez, the founding member of the South End-Roxbury Community Partnership — a public health advocacy group — said there are inequities and hypocrisy between what the residents of the area are experiencing and the programs and policies put in place by politicians to fight the continuous addiction.
"It just feels like we have no rights as a community to be in our community," Lopez said. "It feels like we are walking on pins and needles by the individuals who are suffering on Mass and Cass."
Lopez said the group is seeing the area becoming more populated by people struggling with addiction who are younger, who are not from Boston and who came from recovery centers that were closed down, such as Norcap.
Lopez also added that while the opioid crisis disproportionately affects Black and Latino communities, new policies have only been put in place when it became an issue for white communities as well.
"Why is it that the Black and Latino community are continuously impacted by these inequities in 2021, while every political candidate keeps talking about equity?" she asked.
Lopez said the residents who are trying to help feel as though their lives are at risk because of recent violence in the area.
"Our kids can't even use a park and we can't even go to the grocery store, because there's barely any shopping cart to even put stuff in," Lopez said. "We just no longer feel safe in our own community."
The area has also been labeled Methadone Mile because of the high concentration of methadone clinics in a five-mile radius on Massachusetts Ave. 
The focus of the South End-Roxbury Community Partnership is to decentralize recovery services so they are more accessible throughout the City of Boston and in Massachusetts, as well as regulating sober homes and increasing mental health services.
"Oftentimes, we forget that, although our community is upset at what we're seeing, we're also seeing that we don't disagree with the addiction community, that they've been left behind," Lopez said. "The reality is that there has to be some level of prioritizing to get people into a wellness space, and we can't do that if you continue to close facilities like Norcap and centralizing everything in one location."
Claudia Rodriguez, director of the outpatient addiction recovery program at Brigham and Women's Hospital, said the Mass/Cass area has frequent and open substance use, but there are still treatment services to help.
"The area itself is not meant to combat addiction," Rodriguez said. "A big part of what the goal is is just really to have people have open doors so that when they are ready for treatment they can access those doors."
Rodriguez added that National Recovery Month marks an exciting time to see people who have succeeded in their recovery.
"The focus shifts from the sadness of addiction to really the incredible strength and determination and success of recovery," Rodriguez said.
Boston residents who are active users can visit the city of Boston's Access, Harm Reduction, Overdose Prevention and Education site for needle exchange services, counseling and STI testing.  
Individuals in recovery can also access training, education and Narcan kits through the state.
"When we see Mass and Cass or soon-to-be Recovery Mile, and we see people struggling, it's like the ugly side of addiction and we're totally missing out on the thousands of people that are walking amongst us who have succeeded and overcome an addiction," Rodriguez said.
Students in recovery can join the Boston University Collegiate Recovery Program through Student Health Services.
Lindsay Shachnow contributed to the reporting of this article.