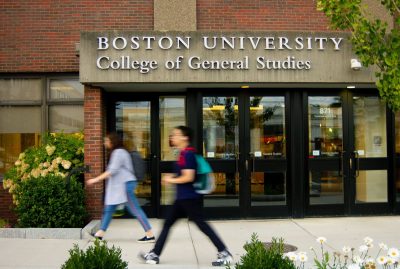 Boston University's College of General Studies program canceled its summer semester in London earlier this year, giving students the option to choose between a virtual or in-person experience in the New England area with housing provided in Myles Standish Hall. 
Regardless of their learning location choice, all students paid a $2,000 fee — as opposed to $5,600 for the typical London programming —  for special events and excursions.
The six week in-person program offered weekly excursions to several attractions in the New England area, including Red Sox games, the Museum of Fine Arts and a walking tour of New Bedford.
Remote events such as a writing workshop with visual storyteller Catherine Madden and a film screening with Gil Robertson IV, president of the African American Film Critics Association, were offered as well.
Shawn Lynch, a CGS lecturer in social sciences, said given the circumstances, he thinks the program provided worthwhile speakers and events for the hybrid format.
"Even though we weren't all in an auditorium or we weren't all walking on a tour I think that all the teams did the best they could to find events that would appeal to the students whether they were all remote or on campus this year," Lynch said. 
He called the transition "a very difficult experience" in terms of faculty members having to put together an entirely new program. 
"I do not know how the teams that were for Summer 1 got anything planned," Lynch said. "The day that I turned in my final grades we started planning for our Summer 2 session and we didn't stop until the day classes began."
Sydney Roth, a CGS sophomore who chose the remote option, said the program brought in a lot of interesting speakers who discussed relevant issues such as space pollution and climate change. 
"They had a lot of really cool doctors and astrophysicists come and talk about really current issues," Roth said. "It was really interesting and I really enjoyed them." 
Kaylynn Michael, a CGS sophomore and in-person participant, said her professors made a special effort to make the experience as positive as possible.
"I think my professors tried really, really hard to still make it fun even though we were obviously disappointed about not going to London."
Michael said although Catherine Madden's lecture on how best to take notes was her favorite, she wished the speakers had come in person.
"I do think it would have been better if we would have been able to get them in person but I completely understand why we couldn't," she said.  
Michael said while it seemed as though some other teams went on fewer excursions and did not hear from as many speakers, she felt like she got her $2,000 money worth. 
"I felt like we definitely had enough speakers and enough excursions and outings around the city to either get the money's worth," Michael said. "I know some other teams that my friends were on seemed like they didn't do as much."
As a remote student, Roth said she was not sure if she got her money's worth. 
"It's really hard to say because some of the speakers were really great," Roth said. "And then some of them were just reiterating what we had already learned in class."
BU spokesperson Colin Riley said the University plans to reinstate all study abroad programs, including CGS, for the upcoming year. 
"They had to make that decision this Spring to figure out what is the best way forward and I think the alternative made sense," Riley said. "But of course they're always looking. They would love to reestablish the real study abroad and BU Global Programs."