As the doors closed on businesses and schools across the country during the pandemic, interest in adopting pets skyrocketed. Many college students and families adopted dogs, cats and other pets to cope with the isolation and loneliness. One photographer was inspired by her dog, who recently passed away, to create a pandemic pet photo project.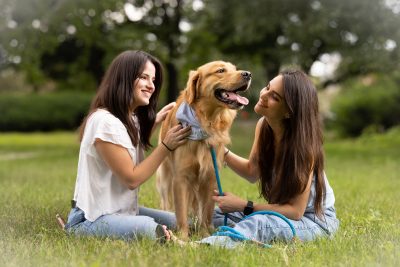 Mindy Dutka, a local pet photographer in Boston, founded Dogs I Meet — a professional pet photography business based in Boston — in 2017 as chief storyteller. Dutka began a project called "Tales of Support" last January through her business, where she featured dog owners and their four-legged friends to capture their relationship.
"It's a very important story within the pandemic," Dutka said, "and when we're on the other side of this … it's a story that should be told and should be remembered because the dogs do have an important role."
According to a study by the American Pet Products Association, around 72% of pet owners said owning a pet helped to relieve stress during the COVID-19 pandemic. As the pandemic continued, the national adoption rate rose from 86 percent to 103 percent from April to November of last year, according to Shelters Animal Count, a nonprofit database.
Dutka said she began the project after realizing the positive impact her dog had on her life after the almost 16-year-old pet passed away last September.
"The silver lining for me of the pandemic and quarantine was I got to spend the last five months of her life with her 24/7," Dutka said. "That was a gift."
Dutka said she initially planned to tell the stories of dog owners and their pets through photo essays. However, she decided to include both visuals and written stories to depict the bonds between the owners she interviewed and their dogs.
"I felt like the stories were bigger than that, and they needed some more information about what it was," Dutka said. "I kept it pretty open ended, and allowed people to just sort of start telling their story."
Dutka said she has published about 25 stories since beginning the project last January.
One such story featured a group of friends who lived in the same apartment building and became "lifelong" friends after meeting one another through their dogs, she said.
Defne Yucebas, a junior in the College of Arts and Science who adopted a dwarf hamster named Clementine last year, said her pet helped her socialize more during remote learning.
"Because of the pandemic, we have been a little awkward socially, I at least, because we don't get as much practice," Yucebas said, "and it was a nice icebreaker to just go up to everyone and say 'hey, I just got a dwarf hamster and her name's Clementine' and then that just helped me make more friends, which was very nice."
She also said interacting with her hamster was a stress reliever because it was difficult to meet others during quarantine.
"I also talk to my pet a lot too whenever I don't talk to anyone else," Yucebas said. "It's a nice … living creature to have around you when you're not feeling that great or just have fun."
Dutka added owning a pet helped to provide structure and routine to the lives of many owners during the pandemic.
"One woman said that her dog didn't even know how he was helping her," Dutka said. "He had to go out for a walk, but the walks were her salvation and cleared her head … and it was hard not to feel joy when you are with your dog."
Grace Metcalf, a junior in CAS, said taking care of a pet not only provides structure but can help others distinguish between the times they spend working and relaxing, especially for those working from home.
Last October, Metcalf and her family adopted a hedgehog. She said because hedgehogs are nocturnal, she would take it as a cue to stop working when it was time to feed her hedgehog, helping her to maintain a better work-life balance.
"Throughout COVID and working from home, I feel like those lines between relaxation time … and when it is time to work get super blurred," Metcalf said.
However, Metcalf said she worried that as people return to pre-pandemic routines, some pets may begin to receive less attention and care.
"I'm a bit worried as we come out of the pandemic that people won't have time for the pets that they've decided to adopt," Metcalf said. "I'm hoping that we won't see a resurgence of pets at animal shelters or abandoned."
Dutka also said she worries that many people who adopted pets over the pandemic will return their pets to shelters. Still, through writing stories about the emotional bonds between humans and their dogs, she can show the impact that pets can have on the lives of humans.
"When quarantine lifted and people are going back to life as normal … I hope these stories will be a reminder to people of what dogs do for them and what we owe them in return for their unconditional love," Dutka said. "That's my hope that these stories will be a remembrance again of the importance of the role that dogs played and it's not just for now."