For college students, "free" is likely the best word in the English language next to "passed," "break" and "ramen." 
Would any college student say no if someone said, "You passed! Take a break with this free ramen"? Of course not. That would make my day. 
However, while ramen is commonplace in most students' lives, "free" is one of the most elusive words at any university, especially one that costs over $75,000 per year. But there is one exceptional time when "free" is everywhere around campus — the Weeks of Welcome events. 
Every year, Boston University's Student Activities hosts a series of events in the first couple weeks of the semester to welcome everyone to campus. These events also happen to have a copious number of free items for the taking, which I wholeheartedly take advantage of.
Free ice cream at the Ice Cream Social? I'm there. Free random pens and water bottles from Splash? Yes. Possibility to get a tyrannosaurus rex costume at Boom Boom Bingo? Someone show me the nearest granny wig and cane and I'm set to rumble. 
At the end of the day, all the items are unnecessary and it's unlikely I'll use the free tote bag or wear the most oversized and plainly designed shirt I now own, but it's there and free.
The first couple weeks of school are the perfect time to get free treats and the best time for someone extremely cheap like me. So, for a bargain-lover at heart who's very serious about her free things, there are events that I'll always be at no matter the lack of need for more items.
Boom Boom Bingo
This event makes me realize that I'm going to be awesome when I'm old. Boom Boom Bingo lands on my top five best moments at BU. It brings out my competitive spirit and feeds my want for free items I don't actually need. 
I loved the music and the DJ spitting out random number facts to excite the audience — for bingo of all things. My roommates and I rocked out and crossed off numbers simultaneously for two hours.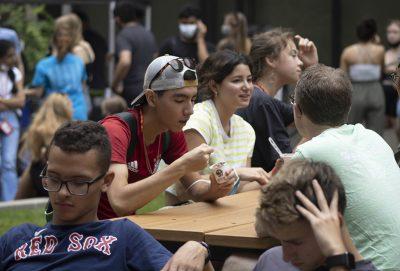 Unfortunately, I have yet to win bingo after three semesters, but I didn't leave empty-handed this time. At the end of the event, the DJ threw out a knit blanket into the crowd, and I caught it and claimed it — for free. 
With no admissions fee, the event is worth trying for free items. The prizes range from BU gear to pool inflatables to Apple products and televisions, plus the possibility to get some random items from the stage. 
Ice cream
Whether it be the Ice Cream Social or free JP Licks pints of ice cream, any free treat is worth searching for. Though last year's JP Licks pints were superior to the small ice cream water-cup-sized samplers this year, the variety of ice cream flavors and companies in the GSU courtyard was amazing. 
I took so many cups and found amazing peach-flavored ice cream. It filled me up throughout the afternoon. 
Splash
Free items galore. Splash is the best place to get all the pens and stickers you'd ever want and don't need  — and turf rubber in your shoes. 
My first in-person Splash was overwhelming. The number of people on Nickerson Field was astounding. Conceptually, I understand that there are about 16,000 undergraduates per year, but seeing thousands of them in one place is another story. 
Despite the stifling crowds, organizations kept the free merch flowing. At the end of the day, I ended up with nine stickers, six pins, 23 pieces of candy, one water bottle and a new bag, which had all landed in my desk drawer. 
The free items I've picked up the last couple of weeks probably make up for $60 of my $75,000 tuition this year at most, but it's the principle of it. Free items are amazing: they're better than nothing and getting them is always very entertaining.