The Boston University men's soccer team's heartbreaking 3-2 loss to St. John's University on Sept. 10 summed up much of the Terriers' season thus far: tightly-contested matches against strong opponents in which BU has fallen just short.
Just 12 minutes into the game, the Terriers (0-4-1) found themselves in a 2-0 deficit, but two timely finishes by freshman midfielder Brian Hernandez brought BU level in the 84th minute before St. John's (3-2) netted the game-winner off a penalty kick in the first minute of overtime.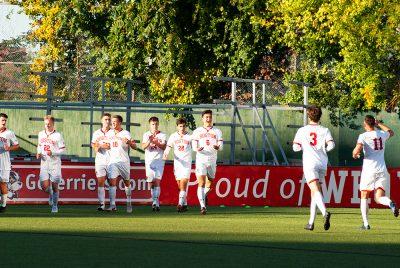 Head coach Kevin Nylen emphasized that the Terriers' record hasn't matched their quality of play.
"You're 0-4-1, and that looks really poor on a record," Nylen said. "But … I think we're the best 0-4-1 team in the country."
New challenges ahead with conference play
BU now looks towards its Patriot League conference slate.
For the Terriers, the shift to conference play presents a chance to regroup and focus on the next stage of the season.
Nylen highlighted the importance of the Terriers instilling their hard-nosed and aggressive style of play on Patriot League opponents. He said one realistic aspiration for the team is to earn a top-six spot in the conference, which would earn BU a berth in November's conference tournament. 
BU begins its Patriot League schedule on Sept. 18, when the Terriers take on the undefeated United States Naval Academy team (4-0-1) at Nickerson Field. 
Scoring struggles
The Terriers have faced significant offensive struggles early in the season, only scoring four goals in five games this season. 
In non-conference play, the team has generated just 9.2 shots per game and 20 corner kick opportunities. In comparison, their opponents have averaged 13.8 shots per contest and 33 corners. 
However, Nylen said he is optimistic that the results will come with time, especially after the two-goal second-half performance against St. John's.
"We haven't been able to find our goals this season, but we've had spells of chances," Nylen said. "We've also played a really difficult schedule and difficult teams, and have had chances and have just not taken them as well … and [against St. John's] we took two chances and took them well, and we found pockets."
New faces, new opportunities
Although Nylen and assistant coaches Ben Mallue and Patrick Lopez were named to BU's coaching staff in early 2020, this Fall is their first full season with the Terriers due to the COVID-19 pandemic. BU took the field last season, but for only four matches in a shortened Spring 2021 season.
The Terriers' roster, too, has a lot of newcomers.
Nylen said he made a point to only recruit players who he could see play in person or who they had seen, since the pandemic limited his ability to travel to see players perform live at the high school level.
He ended up bringing on many players with whom he's had a longstanding relationship and turned to the NCAA transfer portal to bring in other familiar faces.
Some players, such as freshman back Daniel Rosario and Hernandez, have known Nylen since they were 13 or 14 years old. Junior forward Ronaldo Marshall played under Nylen at Florida International University and then transferred to BU when Nylen was hired.
Many others knew Nylen from playing youth or high school soccer. Nylen said that his familiarity with the players he recruited allowed him to bring in players who could fit well into the Terriers' style of play.
"As we are just starting out, we want to make sure that we get it right and we recruit the guys that we believe are going to fit our system and how we want to play," he said.