As COVID-19 restrictions relax and students repopulate campus at BU and elsewhere in the city, Boston-area businesses have faced an increase in student customers.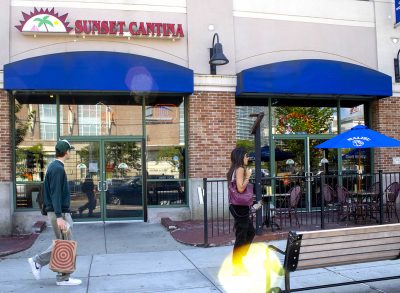 The McDonald's in Kenmore Square has been consistently more busy since the school year began, owner Cherag Selhi wrote in an email. Selhi wrote that as the school year begins, students "account for a significant amount of the customer base at this time."
"Customer lines have increased in the store, our inventory purchasing has gone up and our employee responsibilities have intensified with how multitasking and being cross-trained on different stations has become more a point of focus," Selhi wrote.
The increase in customers has required stores and employees to adapt accordingly. Selhi wrote that McDonald's has utilized a temperature scanning system, increased their staffing levels and sanitation processes to account for the increase in customers while maintaining customer satisfaction.
Boston University students who work at area stores and restaurants are also feeling the effects of students moving back in. According to the Boston Planning and Development Agency, around 138,000 undergraduate and graduate students are living in the City this year.
Caroline Lander, a sophomore in the College of Fine Arts, works as a store team member at Target in Fenway.
"The last couple weeks have been very hectic around the store," she said. "The line has been backed up all the way to basically the entrance of the store … There's not really anything left in the store that's college essential-related."
Regarding implementing safety procedures, Christina Chow, a sophomore in the College of General Studies and a barista at Starbucks in South Boston, said Starbucks employees have faced some resistance from customers with the recently re-implemented indoor mask mandate. Chow said they frequently "remind" guests to wear masks.
"We definitely have many arguments with customers because there's a lot of pushback, even though it's out of our hands and just for the general safety of the public," she said.
Starbucks management has been training workers about how to address "more aggressive" customers. They also implemented a new system to keep pace with the increase of mobile and in-person orders.
"We had a station called 'hand-off' which is where people were setting up mobile orders so that people can pick them up easily, and it was also to make sure that customers weren't touching cups that weren't theirs to reduce contact with people that might be infected," Chow said. "They created a new station to deal with COVID procedures and dealing with non-in-person dining."
Julia Samuels, a sophomore in the College of General Studies, is a waitress at Fire+Ice, a restaurant buffet-style chain with a location in Back Bay. She has seen an increase in student customers recently.
"It's usually non-student customers … because it's a kind of daunting price … but lately, it was crazy," Samuels said. "We had so many students on Labor Day, and it's kind of nice to see younger people. So I think just in this past week, there have been a ton more students going to the restaurant, which I've loved."
The return to normalcy combined with the increase of student customers is a new challenge that employees have to grapple with. Lander said she didn't work at Fenway Target a year ago, but many of her coworkers said the number of customers has risen since last year.
"We've been told this is our new demographic," Lander said. "We have to do everything we can to help out these guests and make sure that they have the best shopping experience because they're going to be coming here for the next four years."
While demanding, this increase of customers has been exciting for employees after over a year of relative inactivity, Samuels said.
"[I prefer] working with a lot more people … because you make more money, which is obviously the goal of the job," Samuels said. "It's really fun when you have a busy restaurant … And I love when it's full because it feels more normal."
Correction: A previous edition of this article incorrectly referred to Cherag Selhi as department manager of the Kenmore Square McDonald's. The article has been updated to reflect that he is the owner.