Twenty years ago, the United States bore witness to the largest modern-day tragedy on U.S. soil. Since Sept. 11, 2001, the nation still remembers those lost and reflects on the lasting impacts of that tragic day.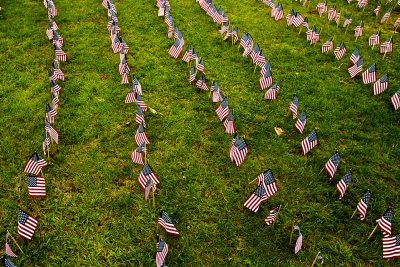 The Boston University School of Public Health hosted a virtual conversation, "9/11. Twenty Years Later." last Friday, Sept. 10 on Zoom. The webinar aimed to reflect on the tragedy of 9/11, the 20th anniversary and what that means concerning public health.
The event was moderated by David Vlahov, a professor and associate dean for research, professor at Yale School of Nursing and a professor in Yale School of Public Health.
The event included speakers Barbara Rothbaum, professor in psychiatry at Emory University and director of the Emory Healthcare Veterans Program, and Albeliz Santiago-Colón, associate service fellow with the World Trade Center Health Program.
Speakers shared their own insights and findings on how 9/11 affected public health. The panel specifically focused on mental health issues that affected people after the traumatic attacks.
Rachel Yehuda, professor and vice-chair of psychiatry at Icahn School of Medicine at Mount Sinai in New York City, said 9/11 revealed a need for specific resources, in addition to public health resources, in case of a similar emergency.
"The main thing that was needed following 9/11 were systems that could provide real information about what was happening, and real services to people who were displaced or looking for loved ones, or who were injured themselves, or who are now at risk for physical illness," Yehuda said at the event. "Systems were needed that could provide concrete assistance, as people faced ongoing and major disruptions and losses in their lives."
The World Trade Center Health Registry was one system that was later formed out of this need. The World Trade Center Health Registry gathers information about the wellbeing of individuals exposed to the direct effects of 9/11 through surveys every few years.
Mark Farfel, director of the World Trade Center Health Registry, spoke at the event and said the registry was formed to help the large number of people who were mentally and physically affected and suffered from the aftereffects of 9/11.
"The number of people estimated to have been eligible for the registry was about 400,000 people, and that's more of a direct exposure," Farfel said in an interview. "One of the speakers today also mentioned people who were indirectly exposed through the media as well."
The Registry has over 70,000 enrollees of many ages, and Farfel explained the research found by the Registry is given to both healthcare professionals and the World Trade Center Health Program. The Registry uses information from surveys to determine how to best help and treat their enrollees.
Yehuda also said from a public health perspective, many people became concerned about protecting the mental well-being of the nation.
"Now, immediately after 9/11, many of us were concerned that the events of the day would result in a PTSD epidemic in New York City and maybe around the country, and tried to prepare for how we could address mental health needs of an entire traumatized city or nation," Yehuda said during the panel.
Yehuda said she got involved with Mt. Sinai after 9/11 to research how pregnant women who were present at the towers and their infants were impacted. Yehuda added that when they monitored their pregnancy and children after birth over two years, they found the infants from mothers with PTSD, depending on the trimester, showed signs of heightened anxiety.
The lasting effects of 9/11 can still be found here within the BU community as well. At least 29 BU alumni lost their lives either at the towers or on the planes, two of which departed from Boston Logan International Airport.
Juliet Pennington, an adjunct professor of journalism and writing at the Boston University College of Communication, grew up in Westchester, New York, but was in Boston when the towers fell. She said after the towers fell, her immediate reaction was to check in on her friends and family who worked in New York City.
"​​Right away, my thoughts went to my family and friends in New York," Pennington said. "My brother, often while he didn't always work downtown, he had meetings downtown a lot, I had friends at newspapers in New York, one of whom works at the Wall Street Journal right across the street from the Twin Towers, and I have many friends who work in that area. So right away, I just wanted to make sure everything was okay."
While everyone in her family was safe, one of her friends from high school lost a brother in the attacks. Pennington continued to console her friend when they discovered the friend's brother was among the almost 3,000 individuals who died during the attacks.
Gursimran Singh, a sophomore in the College of Arts and Sciences, was born in Queens, New York, only a few months after 9/11. As he grew up in New York City, he said he heard stories about the day from his father.
"He [Gursimran's father] was about a couple of blocks away," Singh said. "He owns a taxi business, and he was driving one day, and he just saw smoke coming from the distance … he said it was really traumatic because there's so many people yelling, crying, no one knew what was actually happening."
He said that the day was "really traumatizing" for anyone who saw it and empathizes with anyone who lost a loved one on that day.
Yehuda encapsulated the feeling of healing in New York the day after the attacks in the closing of the virtual conversation.
"As much as 9/11 was the most horrible day in New York, I have to tell you that 9/12/2001 was one of my favorite days in New York," Yehuda said. "It made me feel like New York was this extended family, and that the world were our first cousins, and that everybody was part of the solution."